What are the Positives and Negatives of Instagram?
Hey, folks! Welcome back to my other awesome content.
Instagram is a well-known photo and video-sharing application.
Instagram growing day by day.
The application was founded in 2010.
The growth of the application was incredibly exponential.
You can share pictures and videos with your friends and family.
You can stay connected with others using following them and they can follow you back.
You can share the visual content using photos and videos.
If you want to stay connected with your loved ones then it is the best way to stay connected with them.
Here in this article, we will discuss the advantages and disadvantages of using the platform.
We will do a deep analysis of how we should use it to get a better ROI.
Also, we will discuss how we can make a better community on Instagram.
so let's get started.
As all we are aware of the most popular application, it's pretty easy and simple to use.
Because it's a simple and elegant way of using it, it makes it most popular in a short interval of time.
Instagram allows you to share your day-to-day life with your friends and family.
You can take pictures, and videos and you can share them on your Instagram feed and in the story area.
You should use the relevant hashtags to get better engagement on your content.
If you are a business then you can easily spread the knowledge about your business by converting your account into a business account.
You should connect your Facebook page, Twitter, and Tumblr account to your Instagram account.
When you post something on Instagram it will ask you to share it on your other social pages also.
Sharing on other social pages can increase your reach to get more followers.
Like every other platform, Instagram also has its own pros and cons that need to be considered first, to get better results.
More Instagram Tips:
How Instagram Makes Money | Instagram Case Study.
Instagram with Most Followers | Insta Celebrity.
List of advantages of using the platform:
1. You can share your visual content:
As we discussed earlier, Instagram is the largest hub of photo and video-sharing applications.
As all we aware a picture says thousands of words and even a video says everything that you want to convey to your audience.
So, here are both of the options available.
You can share your pictures and videos.
The major focus is on video and images.
Unlike Facebook and other social networking sites, Instagram is strictly focused on sharing visual content only.
You can showcase yourself as a brand.
While posting any visual content whether it may have an image or video, you can use filters to get better engagement on your Instagram post.
The best part of the application is its story feature, where you can share visual content either images or videos.
2. Promote your brand:
Because of the large number of downloads, Instagram is the fastest-growing network.
Instagram has more than 1 billion active users as of June 2018.
Companies around the world use Instagram to acquire customers for better ROI.
Nowadays brands are also on Instagram.
By using the platform companies and brands are promoting their products and services online.
Brands also hire Instagram influencers to promote their products.
Because of the high engagement rate as compared to other social networking sites, companies majorly promote their products on the platform.
Instagram is a major source of marketing.
Even if you're running paid ads then there is nothing to lose because Instagram is the only network that can give you much high engagement on your posts.
3. Clean user interface:
Because of its clean user interface, it gives a more pretty look.
Just look at other social networking sites like Facebook and other content-sharing sites where a bunch of posts show when we open the account.
Instagram gives you an amazing and pretty look.
Users can easily navigate the options and easily promote or share the content.
Just look at the profile section of your Instagram account a pretty bio section that allows you to share a short description of your company or individual.
All your posts will show up there in a well-organized and efficient manner.
Whatever you post everything will remain on your Instagram profile.
Learn more:
How to Delete and Recover Instagram Account.
Instagram is Down or Just Upto You | Instagram Issues.
4. Great platform for celebrities, artists, and photographers:
If you want to become famous overnight, welcome here you can.
You can become Insta famous within a few weeks.
You just need to put in some effort, need to post regularly and you can become Insta famous in a few weeks.
Many people became brands just because of Instagram.
If you have any talent to showcase to your audience then you can share it with people.
Since Instagram is a visual platform so here you can share your pictures and videos with your friends and family.
If you're a photographer then there is nothing like Instagram.
It's like a gold rush for photographers to showcase their creativity.
Even if you're an artist then you also need to be on Instagram because of its visual interface, it allows you to share visual content only.
5. You can maintain your privacy:
If you are too shy or you don't want other people will see your privacy then you can keep a private account.
Only the people you allow will be able to see your pictures and videos or content whatever you post.
Suppose you don't want that other than your followers will see your content then you can turn your privacy setting on.
If you click on the privacy feature then only you and your followers can see your content.
There is not any application, website, any code with Chrome inspect element, etc. can break privacy.
6. Lots of functionality: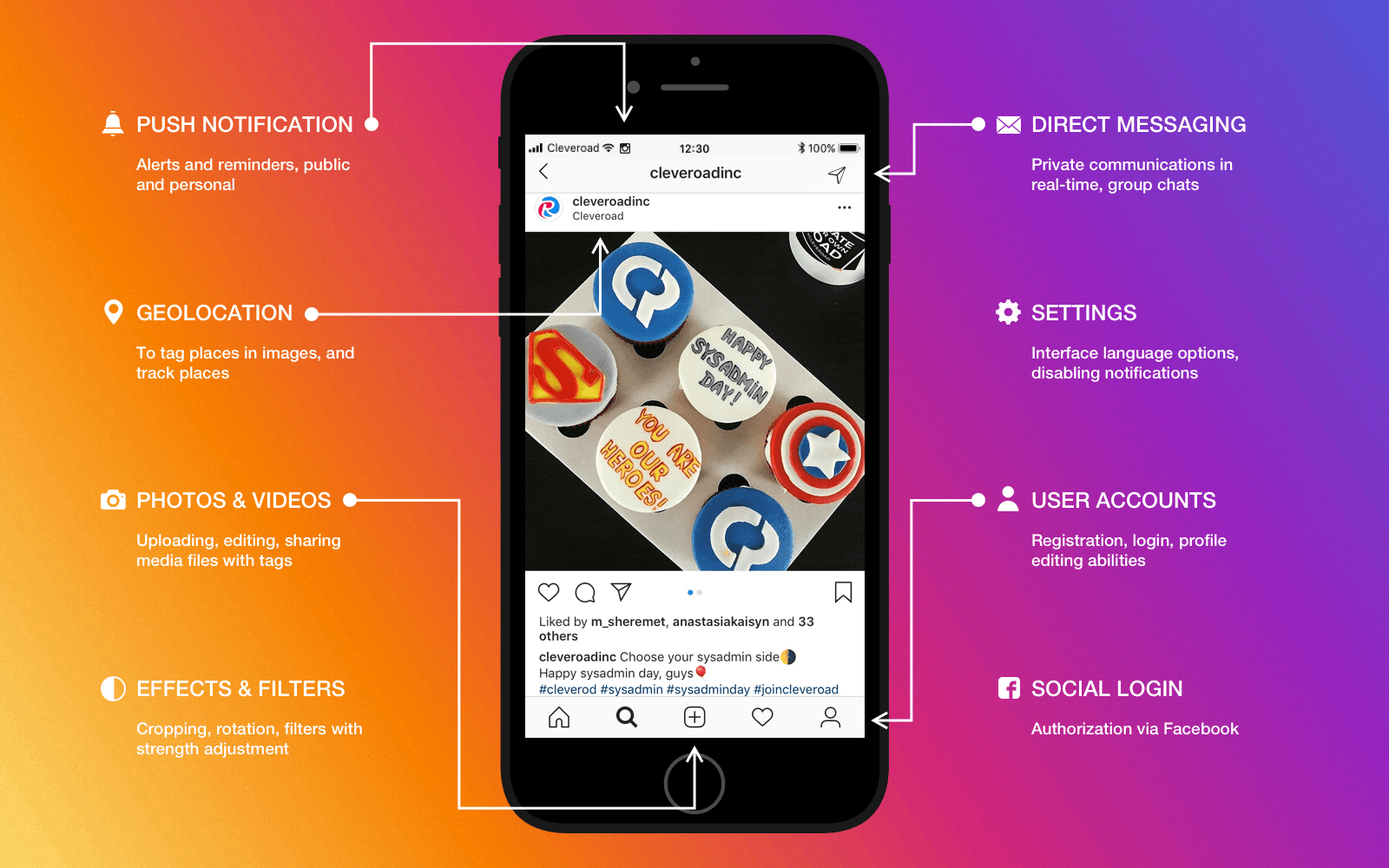 Unlike other social networking sites like Facebook where a bunch of useless features are there.
Instagram has incredibly smart features to showcase yourself as a brand or in a funny manner.
You can share your thoughts with good stickers whenever you post in your story part.
You can use the boomerang feature for sharing back-and-fro videos so that you can amazingly engage with your audience.
People love to see boomerang videos. You can take attractive shots while taking the pictures.
So these are the best possible advantages of Instagram.
I hope you'll be better off getting that and it may help you to decide to be on Instagram right now.
You should also click:
How to Check Who Viewed My Instagram Profile.
How to Get More Instagram Story Views.
Disadvantages can also be illustrated as given below:
1. Share only visual content:
Because its motive is only limited to sharing as a photo and video-sharing application.
Many people still want to post textual content.
Unfortunately, Instagram can't grow itself like Twitter and Facebook, where a bunch of other features are also there.
On Facebook and Twitter, you can share video and image content but you can also share something more like gifs, and textual content, Even now you can share PPT and PDF files.
Instagram can't grow itself just like that, it limits the application. You can't share the link on Instagram.
2. Leads to a fake lifestyle:
People especially teenagers want to become Insta famous for something that went viral on the internet.
It's a viral fever nowadays, everyone wants to become Insta famous overnight.
That makes people fake because everyone wants to become famous these days, so they try to do unexpected things that don't have any experience with which leads them to injured sometimes.
Sometimes people show off on Instagram. They share pictures of expensive lifestyles.
There is nothing wrong with an expensive lifestyle but only if you have a good source of earning.
3. The web version of the application:
Because of very few features on the web, Instagram wants to keep you close to the application.
Instagram provides you with very less amount of few features on the web.
You can just open your account, can change the settings of your Instagram account, can change your profile DP, etc.
These are the few access that Instagram giving you right now.
You can't post on Instagram by using the web view and also you can't send direct messages to your followers and others.
Click now to learn more:
How to Contact Instagram | Report an Issue on Instagram.
How to Direct Message (DM) on Instagram by PC or Laptop.
4. Addiction:
Instagram application is just like an addiction.
People waste tons of time just scrolling down their Instagram feeds.
Even some people waste their entire day just swiping left or right the Instagram stories.
It's a waste of time for those who are not making money from it.
If you are just looking at others' content and don't invest in your profile then you're just wasting your valuable time.
5. Technical Errors:
Just like any other application, Instagram is just an app.
It can also have technical errors.
Many times it happens that you are stuck with your Instagram account.
It shows some error messages that you can't open your Instagram account then you need to put effort into resolving the problem.
Sometimes the problem is solved sometimes it may not seem like that.
Well, sometimes it happens that you are facing a technical error while posting on Instagram that hashtags not working properly, etc.
These are the major drawbacks that you can consider while using the application.
Despite these pros and cons, you need to use the platform, it's a great source of engagement. Instagram is a great source of marketing brands use it constantly to get better and sometimes the best ROI.
Conclusion:
So after getting these all points, we can wind up the session.
Despite these things, Instagram is an amazing community. You can start yourself as a brand and can be famous in a few months.
If you still have any questions you want to ask, feel free to put them in the comment section down below.
Tell me which one you like the most.