How do I make my Instagram like a pro?
Hey folks! Welcome back to one of my new awesome content.
In this article, I'm gonna share with you some of the best examples that will help you to make your Instagram account more professional and classy.
Instagram nowadays is the most popular photo and video-sharing community.
IG can help you to connect with friends and family.
If you want to set up your Instagram account just like a pro then this article is just for you.
You can use Instagram to grow your business.
Instagram is the most engaging community as compared to other social networking platforms like Facebook and Twitter.
There is always a science behind each and everything.
Instagram also comes up with certain things that you need to keep in mind.
To make your Instagram account like a pro certain things you need to consider as given below:
1. Set up your Instagram account like a pro:
While making an Instagram account you need to give all of your authentic information.
You have to provide the exact and correct information so that people can recognize you fast.
First of all, you have to pick a niche.
A niche can be anything that relates to your business.
Suppose you are a t-shirt manufacturer then your niche must be T-shirt manufacturing.
Similarly, if you are a water bottle manufacturer then your niche should be that.
A niche needs to be predefined.
After deciding on the niche now you have to sign up.
Signing up for an Instagram account is pretty simple you need to give your email or phone number to make an account.
Learn More:
Best Instagram Fonts Generator Websites | Instagram Fonts
Instagram to Video Download | IG Video Downloader
2. Complete your profile:
After making an account now you have to fill up all the details like your full name, email, phone number, and your website if you already have one.
You also need to fill up the bio manually.
Your bio should be short enough that fit that character limits but large enough to express the full details.
Use hashtags in your bio so that people can easily find you while searching for that particular hashtags.
3. Analyze your posts:
After completing the profile now you have to post the content.
Content should be engaging and of high quality.
Analyze your previous content, which one is performing better then make a strategy to post the relevant and same content.
The more you post the content the more you'll get engagement.
4. Use a video editing tool:
People say you just need to create a video and share it on social channels like Facebook, Twitter, Instagram, YouTube, etc. That's it.
But my friend's video creation and sharing are more than that.
Sometimes you need to edit the video manually to get more engagement and views.
You need to use video editing software or apps to get a better experience while posting.
Videos are the best way to share thoughts and ideas as compared to texts and images.
Video content can help you to reach the maximum audience.
People love to watch videos.
If your content is informative or entertaining then you most probably receive more engagement.
Instagram now comes up with IGTV also called Instagram TV. Now you can post longer videos.
So your video should be like a pro as you post on YouTube.
If you're creating short videos then you can also share them in the story area of Instagram.
Want to learn more about Instagram?
What should you not do on Instagram?
Can You Use Instagram Without an Account
5. Leave your IG account link as a footnote: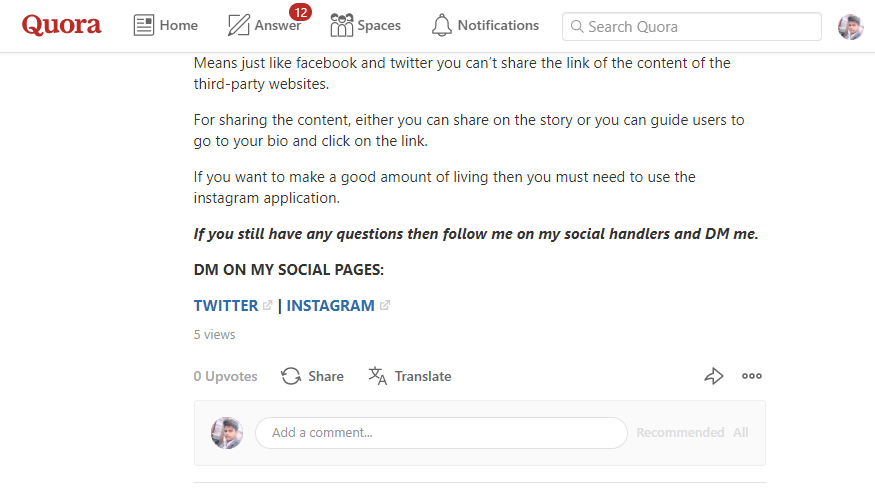 Do you want to get more Instagram followers?
Well, it's a proven technique. If you have a website, blog, YouTube channel, Quora account, Facebook account, etc..
Whatever social media presence you have. You can leave a footnote while posting the content.
To get more followers you need to leave a footnote as your Instagram account link followed by text like"Follow me on my Instagram Handel" etc.
It will help you to grow your Instagram account fast.
If you are on Quora and you love to answer people's questions then you have the option to leave your Instagram account link in every answer.
It will help you to grow your Instagram account.
6. Check what your competitors are doing:
If you want to grow to be like your idol then you have to follow your idol.
You have to analyze your competitors. What your competitors are doing? and what can you do to become an Instagram pro?
Suppose, if you are an actor and you want to grow your Instagram account as an actor then you have to follow your ideal actors.
7. Promote your hashtags:
If you are a business or company then you can also cross-promote your hashtags.
You can create your hashtags and ask people to share the content with your hashtags.
Suppose you have a cafe and you want to grow your business account then you can ask your customers when they leave after billing to post on Instagram with your dedicated hashtags.
You can ask for a review, and in return, you can provide 10% or 12% discounts.
8. The caption should be storytelling:
As we know a picture says thousands of words but without a caption, it doesn't work.
You have to write a descriptive caption so that you can get more engagement on your Instagram post.
You can see the most celebrities in your niche in how they write the captions.
Read More Stuff:
How to Find Someone on Instagram | Find Friends
Look at Someone's Instagram Stories Without Knowing Them
9. Develop your style:
While posting the content you have to build your own Instagram style.
Your every post should contain a definite theme color that relates to your brand so that people can easily recognize you while you post something on Instagram.
Many brands use their brand color in their Instagram posts so that people can recognize them and more and more people can follow them.
10. Use the location tag in every post:
Location tagging is the most important way of getting more and more local engagement to your Instagram post.
If you want to get more real followers and want to become a pro Instagrammer then you have to localize your every Instagram post so that local people can find you and can recognize you.
The location tag helps you to get more followers on your Instagram profile.
11. Engage with your audience:
Engaging is the most important thing that you need to consider while using Instagram.
Engagement by any means you can communicate with your audience in the comment section.
You can post something that intends that you're talking to them.
Well if you have a large number of followers then you have to interact with your audience with the help of stories.
It will give them a personal feel. Always try to reply to the comments if it's not possible then you can communicate with them through Instagram feed or stories.
12. Adding value to people's life:
You have to make people's lives better. You have to provide value to other people's lives.
Once you do that you don't need to shout out for your business you will automatically get business.
To add value you have to provide free stuff.
Stuff may be anything that relates to your business, even free knowledge is also free and more valuable stuff.
If you provide them with free knowledge then most probably people will love you and respect you.
Conclusion:
So after concluding the session, I can say that if you want to become a pro on Instagram then you have to make sure about all the points that I had listed above.
Instagram no doubt is the most engaging and powerful platform for marketing but you have to have the right knowledge so that you can reach the right people.
Your post and your content will create a lot of difference.
Always keep an eye on your competitors what they are doing and how they are doing. If still, you still have questions then feel free to ask.
Tell me which tactics you're using to grow your Instagram account.