How do you get your Instagram back once you've been hacked?
I have the username, but not the password or recovery email because they changed it.
Hey folks! Welcome back to one of my new awesome content.
In this article, I'm going to share with you, how to get back your Instagram account if it is hacked or has already been hacked.
Instagram is the most popular social networking website and application.
If you want to stay connected with your loved ones then you must need to consider using the platform wisely and following your known people.
All you need to create an Instagram account and start using the platform.
To create an Instagram account, you need to go to the Instagram application and click on the signup button.
Now it will ask you to fill in some basic details.
After filling up the basic details, it will create your account.
Now you can attach your picture and fill out the basic details.
Instagram is the most trending social networking platform.
The platform is mostly preferred by photographers and travelers.
If you want to showcase your daily life then it's a recommendation that you use the platform.
If you have a good amount of followers then you have a chance to make a good outstanding from your Instagram account.
It will take time to grow the account but once it is, you can do a lot more things to make money with your Instagram profile.
It will take hard work but when someone hacks your account then it's really a painful condition for you.
Now here in this article, I'm gonna try to figure out, how to save yourself from the hacking attack on Instagram.
If your account is already hacked then what are the best possible ways to get back your account?
Learn more
How Can I View Deleted Instagram DM's?
How do I check who blocked me on Instagram?
How to avoid getting hacked from your Instagram account:
If you want to avoid hacking then it's a personal recommendation for you to use a very strong Instagram password that is difficult to guess anyone.
You can use a combination of numbers, letters, and special characters.
It's always a recommendation that you use a strong password at least 8-16 characters long.
Be careful while choosing the password, never use your own name, your wife's name, any pet name, phone number, car number, etc.
These are easy to guess and your close one can guess your account details and can easily hack your account.
This type of attack is known as the social engineering attack, where a hacker guesses your password and can log login to your Instagram account.
You should use the two-factor authentication in your Instagram account.
As we all, are aware two-factor authentication is a way of protecting your account from being hacked indirectly even if you have the username and password of the account.
It will send a code to the registered phone number and ask you to put the code inside the box and then hit the login button.
You should avoid any third-party links to click.
Sometimes hackers use the phishing technique to hack your account.
Phishing is the way to create the same login or signup page as Instagram.
When you click on the link it will look like "your account is logged out" and you need to sign in again.
When you sign in again your username, email, and password will compromise with the hacker.
When you'll click on the link make sure about the URL.
The URL should be www.Instagram.com.
If this is not the case then you should avoid putting the details close the browser and delete the email or message from wherever you received that link.
It's the best way to stay away from hackers.
Even if the hacker knows your username and password, he/she can't log in without the verification code sent to your device.
Make sure to use the registered email address on your account.
A registered email address is something that can help you get back to your account if your account is compromised by someone.
You can get back to your Instagram account either by your phone number or by your email address.
If your account is already hacked then you must need to calm down and need to take action for that.
If the hacker deleted everything from your Instagram account and changed everything like your username, email, phone number, profile picture, etc. still there is hope.
All you need to go to the Instagram official application and click on the forget password tab.
Now you need to click on trouble with the login tab and you'll see a purple screen with some instructions on your screen.
Now you need to read out the full details and scroll down at the text box area.
In the text box area, you'll find, it will ask you to explain your issue.
Now you need to explain everything about your account.
You can explain your previous username, name, email, phone, etc., but now it has changed into this and my account got hacked.
Explain everything whatever you have. It will help the Instagram team to reach you.
After submitting the request token, you'll receive an email from the Instagram team and they will ask you to take a picture from your smartphone or iPhone along with that code written on paper and send it to them.
Read more
How to Recover Instagram Account?
How do I delete a picture on Instagram?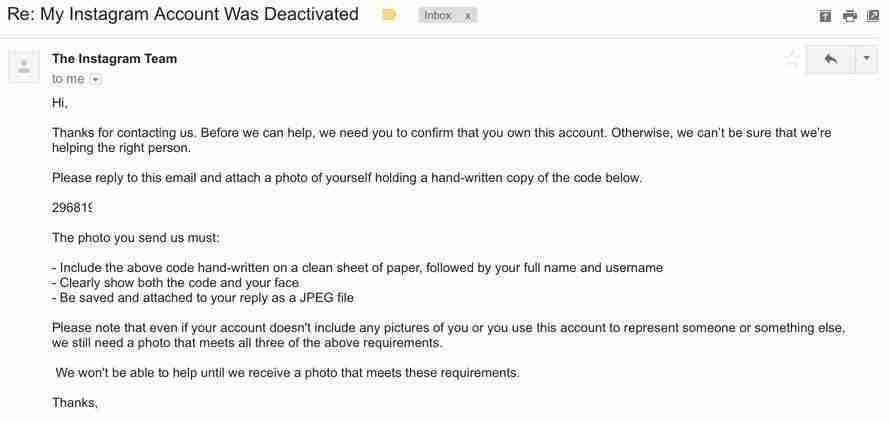 When you'll do it the Instagram team will respond to you.
Responding time may vary.
You have to keep patience and keep checking your email again and again.
You'll receive a link where you can change your password.
The hacker changed everything on your account, now you can get back everything to normal.
But sorry for the content you have shared and deleted by the hacker, it can't get back.
Instagram always warn you that your detail has been changed.
When Instagram sends you a confirmation email that it was you that changed the details then make sure to revoke the process and get access to your account immediately.
If you miss that email and click on yes by mistake or it is also possible that hackers may delete your mail then you have the only option to go through the process.
Do you have more questions?
How does Instagram Algorithm work in 2020?
How to get Instagram Likes & Engagement Free?
Report from your PC:
If you have a PC then you have the option to report the issue on your laptop or PC.
All you need to do to a link to Instagram support.
After following the link, you'll see a lot more options there.
Now you need to click on the particular option that best suits you.
This option is also suitable if someone impersonates your Instagram account and just creates a similar to your Instagram account.
Now you have the option to report to that account. This trick may also work for your hacked account.
You need to fill out the basic form and click on the submit button, Now the same procedure you need to follow as explained above.
Instagram usually takes time to respond so you must have to keep patience.
If there is not any response from the Instagram team then you need to consider repeating the steps again.
Don't give up, keep trying and you'll definitely get back of your account.
If you have a business account and your business account was hacked then you have the advantage to get back of your account from your Facebook page from where your Instagram account is linked.
It's a recommendation that you attach your Facebook page to your Instagram account so that later when your account is hacked in the future you can get access from Facebook.
If you have signed up with Facebook then you can try to log in with your Facebook account also.
Maybe this trick will work for you.
While reporting the issue make sure to provide each and every detail of your account.
Instagram will respond to you only when you provide full details of your account.
Want to learn something new?
What is the main purpose of Instagram?
Bottom Line:
Instagram is really an amazing platform for sharing visual content.
You can showcase your daily life.
It's the most trending platform these days.
Make sure to use your account safe, and never share your password with anyone else.
Never logged in with any suspicious third-party applications.
Make sure to keep your account password combination of letters and characters and don't forget to use the special characters also.
If you still have questions then please comment down below.
Tell me which trick worked for you.