How do I find the email on my Instagram account?
Hey folks! Welcome to one of my new articles.
Instagram is the largest used social networking website and application.
It's a photo and video-sharing application and website where you can share visual content only.
Visual content can be photos or videos.
All you need to create an account and start sharing the content.
For sharing the content you need to click on the plus icon at the bottom of the screen.
Tap that icon and you'll see the camera will open in your smartphone.
If you want to capture a new image then you can do that.
If you already have a captured image then you can directly share it by clicking on the gallery tab.
Select the image fill out the captions with relevant hashtags related to your Instagram post and click on the next tab.
You can use tons of Instagram filters to make the content attractive and appealing.
After editing the content now you can share it with your followers.
Instagram allows you to follow other people and others can follow you back.
Here in this article, we will try to figure out how we can find the email address of our Instagram account.
Learn more
How Can I View Deleted Instagram DM's?
How do I check who blocked me on Instagram?
Here are the steps to figure out:
1. First login to your Instagram account from your Instagram application.
2. After login, you need to go to the profile by clicking on the profile icon at the bottom right corner of the screen.
3. Now you need to click on the edit profile option at the top of the profile screen.
4. After clicking on the edit profile button you'll find all the options. Here you can change the username, phone number, website link, and yes email address.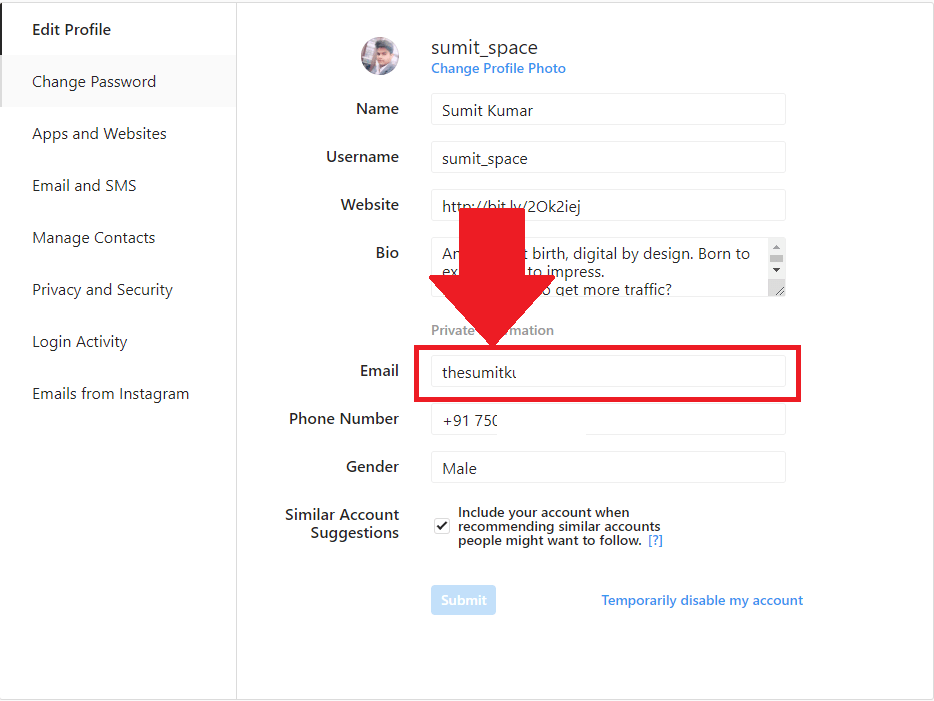 5. If your Instagram account is already verified with your email address then you can see the email in your edit profile section.
If this is not the case then you must need to verify your email address first.
Read more
How to Recover Instagram Account?
How do I delete a picture on Instagram?
6. To verify the email address, you need to put the email address inside the email tab and hit the Save button.
When you'll hit the save button it will send you a confirmation email on your mail ID.
7. You need to confirm your email from your email account. After confirming the email now your email added to your account.
8. If you want to change the email address then you need to consider it.
You can enter the new email address after deleting the previous email address then hit the save button and again a confirmation link will be sent to your email.
9. Now you need to verify the email by clicking on the confirmation link.
These are the steps you can follow to get access to your Instagram account.
Suppose you forget your login credentials and now you can't log in to your Instagram account Then you have the option to get back to your account.
First, you need to click on the forget password tab and then enter the login credential username, phone number, or email address.
After putting one of these now you can get a confirmation link on your email or phone number.
After getting the link you can reset your password again.
Do you have more questions?
How does Instagram Algorithm work in 2020?
How to get Instagram Likes & Engagement Free?
Conclusion:
These are the best possible ways to find out the email address of your Instagram account.
Instagram is a popular photo and video-sharing application.
If you want to become Insta famous then you need to consider creating an account on the platform and start sharing your daily life.
Make sure to register your email address on the Instagram account with your phone number so that you can get back your password if you forget it in the future. Peace!