How can I create an Instagram story using multiple photos?
Hey folks! In this article, I'm gonna share with you an idea about what are the ways to share pictures and videos on your Instagram story in one single step.
Instagram is the largest used social networking website and application.
Instagram allows you to share visual content only.
This means you can share the images or videos.
You can share the content inside the Instagram feed, stories, and direct messages.
Sometimes it happens that you have tons of images or videos and you want to share multiple images or videos inside your Instagram stories How do you do that?
In the early days, you need to upload and share the content one by one.
Now Instagram has an update and now you can share content with a single click.
You can share up to 10 images at once.
Here in this article, we will try to understand how we can share pictures and videos at once in Instagram stories.
First, we will talk about the smartphone and later shift to PC or Laptops.
Read more about Instagram:
How does the Instagram Algorithm work in 2020?
How to get Instagram Likes & Engagement Free?
Steps to share the content from your smartphone or ios:
1. Open your Instagram application on your smartphone and iOS phone.
Now you can share the pictures and videos in your stories for that you have three options.
2. You can share the images by clicking on the camera icon at the top right corner of your application.
You can upload the story by clicking your profile plus icon or last but not least by clicking the plus-circle icon at the top left corner of your screen.
3. After clicking on one of these options you'll see the camera will open in your smartphone or iOS.
Either you can capture the content or you can go to your library and can simply upload the content.
4. For uploading multiple images or videos you need to click on the multiple select icons at the top left corner of your screen.
5. Now you can select multiple images or videos. After selecting the multiple items click on the Next button.
6. You can add emojis, you can write down something on your image, can add filters, etc. After that hit the next button and share the story that's it.
7. Either you can share the story with your all followers or you have one more option to share with your close friends only. The choice is yours.
These are the steps that you can follow to upload multiple images or videos in your Instagram story a once.
Now we will discuss how we can upload all the images in a single image in your Instagram story.
For uploading all the images in a single image you need to make a collage of your images in a single image.
You can use any third-party application that allows you to make a collage.
Make sure inside the collage you need to embed all of the images you want to share.
Learn more about:
What is the main purpose of Instagram?
After creating a collage now you can upload it to your Instagram story area.
Now deep dive into the laptop or PC.
Sometimes it happens that you need to upload the images and videos right from your laptop or PC.
If you directly try to share the content inside your story you will not be able to find any option.
You should also read these contents:
Why won't Instagram let me follow people?
Is it possible to buy Instagram followers?
Here are the steps you need to follow:
1. First, go to the Instagram official website. Login with your Instagram account.
2. After login you need to click the CTRL+SHIFT+I button on your laptop or PC.
After clicking these three buttons simultaneously, now you need to toggle your screen from PC to mobile by clicking on the top button as shown below.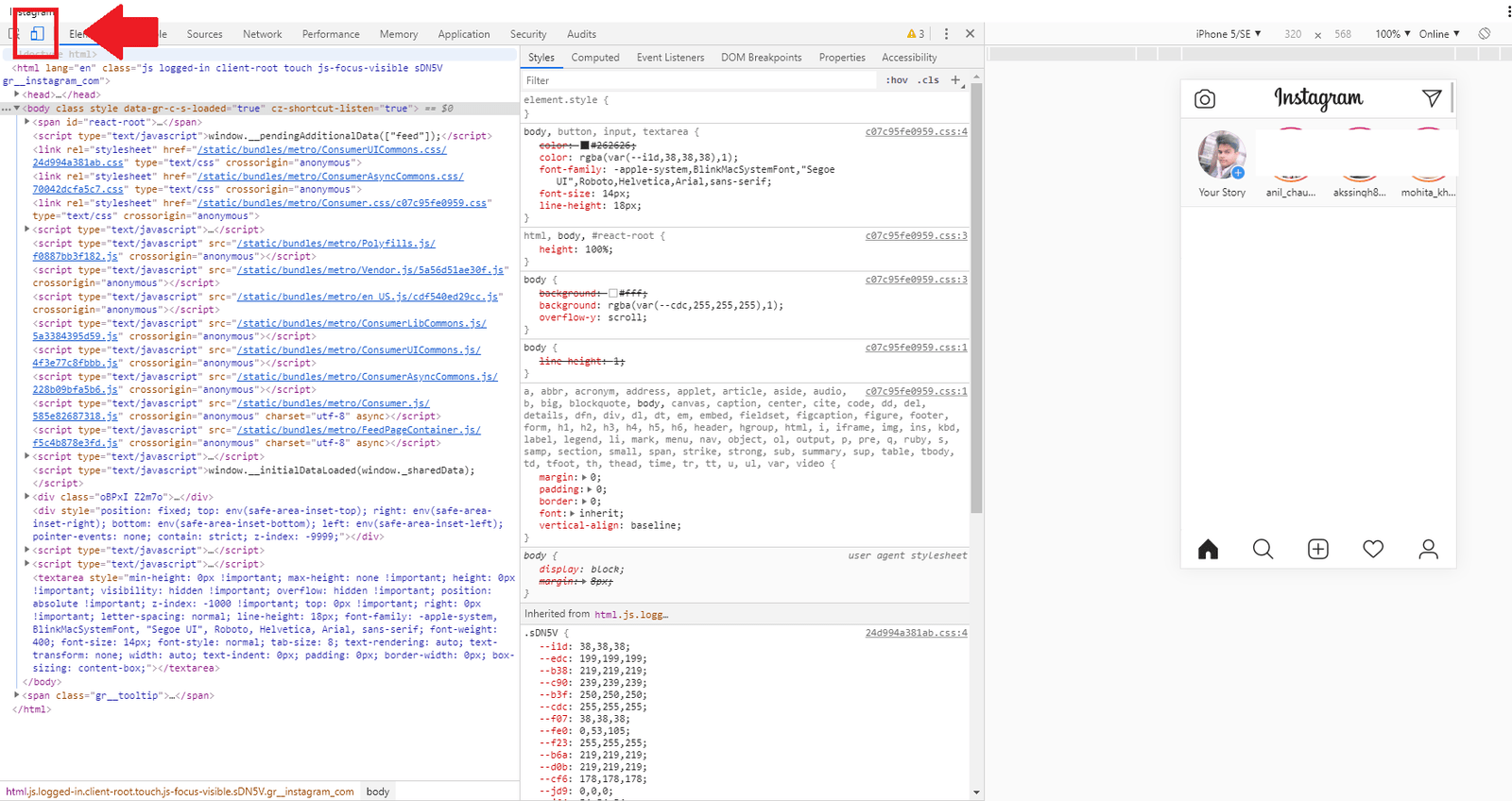 3. After clicking the button you need to press the F5 button.
It will refresh the screen and toggle your screen to the mobile console view.
Now you can upload the content from your laptop or PC.
4. It will work like you're using Instagram on your mobile device.
Conclusion:
So after concluding the session, I can say that these are the best possible ways to share the stories.
If you want to share the pictures or videos in your at once then you need to follow these steps.
If you have any questions then please comment down below I'll get back to you shortly. Peace!