You may hear the word zombie in Hollywood and Bollywood movies and also so in comics, cartoons, and other web series platforms.
Zombies are undead creatures. This is a terrible game In which you have to catch zombies and you will also enjoy this game.
If you have a habit of playing zombies and fighting games, then you will like this game. But you do not have to be afraid in this game by zombies, you have to catch zombies in this game.
This game is different from other games because in another zombie game you have to kill all the zombies and survive but in this game, you have to fetch and earn coins.
The zombies attack the people, but in this game, they will be bitten because you will have the weapon to catch them.
Read more:-
Skype – Everything You Need To Know
Pokemon Masters – Everything You Need To Know
Story of this game:
This is a zombie game in which you have to catch all the zombies, you will have a harpoon gun in your hand.
With this harpoon gun, you have to catch all the zombies. Zombie Catcher is an adventure game, You will be in a world where zombie invasions are riddled.
Planet earth is infested with zombies.
But by luck, we have 2 intergalactic businessmen named A.J. and Bud. Together these two made a plan that we both will save Earth by catching all the zombies.
And we will also make a super profit. We will both hunt down this useless horror and sell the Delicious Zombie Shake and hunt again when Shake should be over.
We both will use an arsenal of gadgets and traps to hunt and catch all the ripe zombies after that we both will take all the zombies to a secret underground lab and make zombies shake and earn profit.
Read more:-
Features of the game:
– Hunt down all the zombies with the help of your arsenal of gadgets like harpoon guns and sneaky traps.
– Can unlock exciting new hunting gadgets like nets, weapons, guns, traps, and jetpacks to help you to find and catch all the zombies.
– You can also create tasty juice candies and cuisines from your all caught zombies and these all tasty juices will help you to earn a profit, you can sell them to your hungry customers.
– You can easily discover new territories on the map, find unique zombies and catch all the zombies which are on different territories to squeeze into lucrative food products and sell it to customers to earn profit.
– You can build an empire in the food business by developing new delicious recipes and upgrading your production lines to deliver maximum profit.
– If you want to catch more zombies, you can dispatch your army of drones around the whole world to find awesome zombies to catch.
– If you want more coins you can do one thing, take out special bose zombies by giving them a lure and capture all of them with the help of your harpoon from your flying ship.
– There is rank also in the game. If you are performing well your rank will grow automatically, if you want to increase your rank you have to catch all the zombies when you are going on hunting.
With good progress, you will get more plutonium and exclusive costume for your character.
– You can manage and grow your own underground laboratory by catching special boss zombies and more zombies.
– If you want awesome reports for your character you have to catch all the zombies and complete fun daily challenges. By this, you will get exclusive rewards.
– More such games: Play Stores that use the Internet on mobile phones, but this game runs without the internet. Which is a very good thing. You can play this game anytime, anywhere.
Read more:-
Process of downloading zombie catcher:
Step1- First you have to unlock your phone and open the Play Store or app store of your device.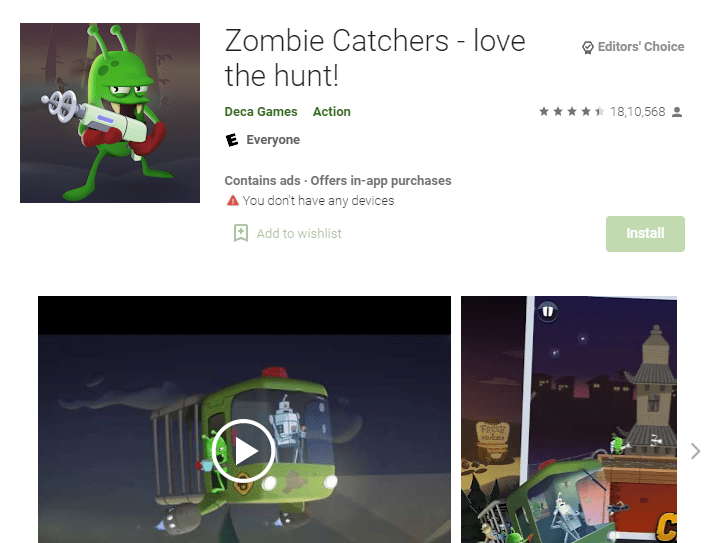 Step2- Now you have to click on the search icon and type Zombie catcher- love the hunt.
Step3- After buffering you can easily download it by clicking on the install button and enjoy the game.
Some facts related to the Zombie catcher game:
Zombie catchers is a  game to play but if you want to buy something in-game you can buy it because the game also allows YouTube to purchase some items for real money.
As per your convenience, you can use this feature. If you don't want to use this feature you can also disable it.
You can go to your device setting and disable in-app purchases. Criteria for downloading a Zombie catchers app is 13 years of age or over.
Only people of 13 years of age or up to 13 years old should use it. This Zombie catcher game gave this criterion because below 13 years students maybe took it as serious in their life.
Which is not good. But this is a very good game for 13 plus age people. Zombie catcher games also have a big achievement, in 2020 Zombie catcher's games crossed a hundred million downloads on Google Play Store.
Frequently asked the question:
Q1-who created the Zombie catchers game?
Answer- the founder of the zombie catcher game is Ken Go, In Kabam European HQ, he previously served as a general manager.
Zombies catcher has been played by more than 55 players and he also became the sixth game in DECA'S portfolio.
Q2-how many levels are there in the zombie catcher game?
Answer- Zombie catchers game has 68 levels and it also comes with 5 different maps named Swamp, Beach, Snow, Chinatown, Laguna.
If you are tearing the initial level you will find some more difficult tasks to complete.
If there is any difficult task and it is not completed by you it means you have to upgrade your weapons and make them stronger to catch these zombies faster.
Q3- Will there be a zombie catcher 2?
Answer- No there is no Zombie catchers 2 game because Zombie catchers game will be too difficult on a high level but if you want to play Zombie catchers 2 so you can play zombie attack 2 is similar to the zombie catcher game.
Read more:-
Conclusion:
This is the best Zombie casual game for fun and this game is in the top 10 games in over 19 countries which is a huge thing. Everyone should try it.