Dead target is a zombie shooting offline game. You can easily get it on Google Play Store.
There are a total of 115 million users in India.
Dead Target is an addictive shooting game and has a zombie theme. You can easily control the system of this game.
You have to keep your defense up, with the help of your fingers, you have to keep your finger on the suit button. To survive you have to shoot all the zombies at a dead target.
In this game you can do many things like you can kill zombies with the help of legendary 3d weapons and attractive skins which make your experience better.
You can upgrade your guns and sniper to face all zombies who are attacking you nonstop.
You can experience 3D shooting as a real zombie shooter. It is an action game in single-player mode and stylized for feeling thrilling.
In this game you will experience things like, you came in 2040, the zombie apocalypse began and a zombie teen is hired to kill all the zombies in the zombie apocalypse.
So just slay all the zombies into death.
Read more:-
Skype – Everything You Need To Know
Pokemon Masters – Everything You Need To Know
Zombie Apocalypse:
In this game, you have the ability to kill all the zombies for survival.
Zombies will attack you until the dead. This is a proper offline game. You can also enjoy it when you do not have the internet.
About this game in detail:
This is a zombie shooting game. Which is offline. You can play it without the internet.
If you don't know how to play this game, don't worry.
When you open the Dead Target game, you can learn it by tutorial.
The tutorial game will teach you how to play this game. In the tutorial, you will see the aim area.
By this, you can easily aim at these zombies and you will also see shoots, change guns and reload type icons.
The Shoot icon will help you to fire the bullet.
By changing the gun icon you can change your weapon like you can change your pistol to an auto gun.
It will help you to kill zombies fast or when they are so close to your playing person.
By reloading the icon you can reload your weapon, it will help you to reload fast or to kill zombies faster.
The tutorial game will help you to use these icons like the aim area game will tell you to aim at the zombie by scrolling.
Unique guns- In dead Target games, you can take unique weapons to kill zombies faster.
You can play with 50 deadly guns or you can upgrade or customize your guns with skin.
If you upgrade or customize your weapon It looks like a well-dressed killer gun. And these all things are in the offline game.
Awards system-in the dead Target game you will also get an award to complete missions, shooter complete quest to rank up, and unlock cooler gun games weapon.
If you kill more zombies you and your rank are up so you can get a chance to become a legendary Sniper offline game.
And if completing your missions or achieving definitely you will get rewards.
If it is a detective game- the dead target is one of the offline games, it's me you can play it anytime and kill zombies.
You can download it through Wi-Fi or the internet both, but we recommend Wi-Fi.
But if you want to play this game you do not need the internet.
It is not an addictive game because if you complete your daily missions or achievements you will not get more rewards so regularly playing does not make any sense.
Realistic game-Players of Dead Target game will enjoy 3D graphics of the zombie killing.
You will feel more realistic when you are playing it with the help of earphones because when you hear the sound of gun killing, it makes your experience good.
If you directly shoot on the zombie's head it will sound headshot after getting the sound of the headshot you will feel Pro.
Read more:-
 Download Dead target offline zombie game:
 Step 1- First you have to unlock your device and open the Play Store or app store of mobile.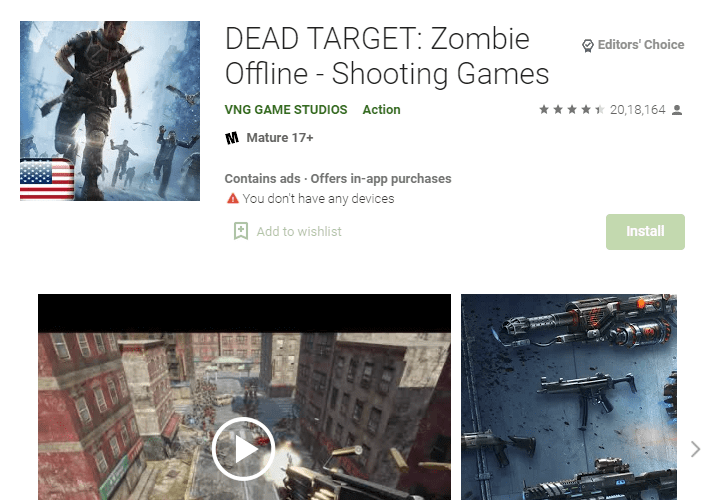 Step 2-  Now you have to type on search option dead target offline zombie game.
Step 3- After some time you will get it easily on your screen because it is not a copy game so you do not need to scroll at all to find it. Now you can easily click on the install option and play it.
Leaderboard:
You can also suggest this game to your friends. If you and your friends are also playing this game, you will also get more interest in this game.
You can connect this game through Facebook.
If you connect this game through Facebook you can compare your leadership with your friends.
Just play this game and reach the top of your friend list and other global players.
Read more:-
What we can buy in it?
Dead Target game
Can buy diamonds in the Dead Target game. With the help of diamonds, you can buy mythic or legendary guns or skins.
You can buy gold for cash in the Dead Target game.
With the help of gold and cash you can unlock your guns and upgrade your guns and also you can customize your gun skins as per your wish.
Frequently ask questions:
Q1- Why I cannot invite Facebook friends?
Ans- you can't play video Facebook friend because we have some problem with setup to Facebook, so maybe you can't share or connect to a Facebook friend.
In the future, we will definitely fix this problem.
Q2- How to change language in-game?
Ans- starting when you open the game and the loading screen comes, you can choose any language at your convenience.
If you want to change the language of the game just restart the game, when the loading screen comes you can change language again.
Q3- Why is my game not downloading?
Ans-if your game is not downloading or not opening it means there is a problem in your device means maybe your device storage is fulfilled so you have to clear data and make some space for dead Target game.
If the game is not opening it means your device is low and all your RAM is using continuously in your phone so just remove all the recent apps and open it.
Read more:-
Conclusion:
This is a fun offline game for everyone and everyone can use it offline.
It is not a very heavy game, every device can afford this game or play this game.