It is a Japanese free-to-play mobile game available for Android and IOS. It is developed and published by DeNa, which is a Japanese provider of mobile portals and eCommerce websites.
His headquarters are in Shibuya, Tokyo. This game is based on a very famous cartoon named Pokemon. This game is available in the Play Store with the name Pokemon masters EX.
It is an all-star battle with trainers and Pokemon. Its rate on the play store is 4.2 out of 5 with the size of 88 MB. They have completed their 10 + million downloaders.
It was released on 29 August 2019, for the platform of Android and IOS. It is a series of Pokemon. It is a single-player game.
This Pokemon series is Directed by Katsuyuki Shiga and Noriaki Murakami and produced by Yu Sasaki and Tetsuya lguchi, whereas it's designed and programmed by Yuichi Kanemori and kazumitsu Ota respectively.
His names are Shota Kageyama and Haruki Yamada. Their writers' names are Koichiro Tsuro, Yuka Sugano, and Naoki Muto.
Its latest version is 2.8.1 if it is not your version you can update bye your Play Store this is lastly updated on 26 April 2021.
The purchased item of this game is from ₹79 to ₹6200 per item. You will get achievements for completing goals and skills-based challenges.
Read more:-
Skype – Everything You Need To Know
Twitter – Everything You Need To Know
Gameplay:
In Pasio Island there is a tournament held of 3 on 3 battle which is called the Pokemon masters league.
With respect to entering the Pokemon master league, you must collect at least 5 badges by defeating the PML leaders located in pasio.
Here, your main goal is to become its champion and win the league.
Trainers and Pokemon get assembled to take the battles which create their team and aim for victory.
When you enlist a sync pair, the player can unlock the sync story.
Now you can also participate in limited-time events which are available and keep added regularly with updated events.
Also, there is availability for both players like single-player and cooperative multiplayer in the event, where you must team up to defeat powerful enemies in order to receive rewards and prizes of the event.
From the fast champions, Elite four members and gym leader come together and team up with the trainers and their pokemon and go on adventures.
You can hack egg to get new Pokemon if you add hacked Pokemon in your team and Battle your way a will be the top.
Sync pair – it consists of one Pokemon trainer which was initially seen in handheld games or anime, which was very much similar to super smash Bros, and one Pokemon in Pokemon masters. Every Sync pair has one of three roles:
– A strike sync pair – the main focus of it is on attacking
– Support sync pair – its main focus is on defending, healing HP, and increasing the states of the whole team.
– Tech sync pair – its focus is on different tactics like inflicting status alterations.
This can be recreated by completing certain time events and by playing the main story through scouting.
Read more:-
Development and its revenue generated:
– The concept of this came from a Pokemon series and designer who proposed the idea to merge all the past characters together in one game.
– In Singapore, the preview version was released on 25 July 2019, and in Canada its release on 6 August 2019.
– Due to bans on open loot boxes, Pokemon master was not able to be released in Belgium and the Netherland, unlike most other Pokemon games.
– On its first anniversary, Pokemon master got updated with a lot of new features and name as Pokemon Master EX on 25 August 2020.
– In Pokemon master, EX users can experience an original story that crosses generations – along with familiar trainers.
– It gets average reviews by the review aggregator Metacritic.
– In just four days of its global release, it was downloaded 10 million times and earned $10000000.
– In the first week, 10 million dollars converted to 26 million dollars and within the first month, they generated 33 million dollars and 75 million dollars next month.
Read more:-
Installation of Pokemon masters EX:
On PC:
– First download the LD player Installer on your desktop or PC
– Open the LD player installer, run it and complete the setup.
– Now search Pokemon masters Ex in a search bar.
– You can easily install Pokemon master EX from the LD Store now.
– After installation complete click the game icon to install the game
– Now you can enjoy your Pokemon master EX game with a lot of functions and pokemon.
On Android or iOS mobile:
– Pokemon master X is verified and available in Play Store, App Store, and Apple app store.
– You can choose Play Store or App Store for Android users and Apple app store for iOS users.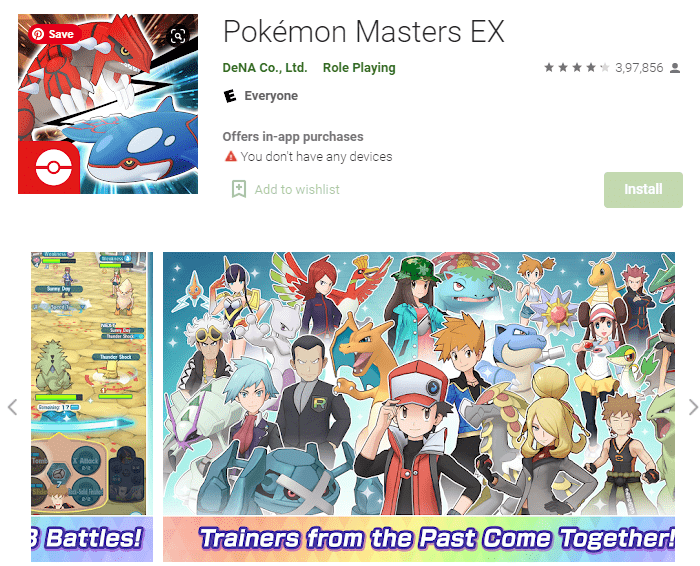 – Open it and search Pokemon master X in the search bar
– Click the install and installation process will proceed
– After the installation process, you can open the icon and enjoy the gameplay.
Frequently asked questions on Pokemon masters EX:
Q-1 How to get more character in Pokemon masters EX?
Solution – the character and Pokemon are called sync pairs and you will get more sync pairs by completing the story as well as through the gacha scouting system.
Scouting and other gacha games refer to the random people you do which grants you a random character.
Every scout crossing pair costs 300 from which at once you can roll 10.
There is no monetary benefit.
Here the sink per you get is random.
In addition, there is a daily scout of 100 jewels but you will be able to do this only after buying jewels with real money.
Q-2 which sync pair should we update?
Solution – the game will become a little easier if you will focus on one attacker and two supporters.
It will be better if you focus on any five-star Singh pair or 4-star strike duos. It will be a clean sweep if your attacker is beefy.
Certain types will inevitably be more useful than others during upcoming events so it will become important to have power for each type of sync pair.
Read more:-
Conclusion:
If you're one of the people who like Pokemon and want to be a Pokemon trainer then in the world of Pokemon game Pokemon masters X is one of the best games for playing and getting an experience of the Pokemon master.