Paytm is an Indian company. Paytm means (pay through mobile). You can use Paytm in 11 Indian languages and it provides you many online payment services.
User can use it in different ways like for mobile recharge, electricity bill payment, traveling, bookings of movie tickets and you can also pay in stores like sport, mall, groceries stores, fruits, and vegetable shop, restaurant, parking, tolls, pharmacy, and educational institutions with the help of your mobile phone or QR code.
Paytm is a private company.
You can use it for online shopping or payment systems. It is in multiple languages. It was founded in August 2010; 10 years ago.
The area is served only in India.
The founder of Paytm is Vijay Shekhar Sharma.
Users can use it in android, IOS, windows. In India, over 2 crore merchants use their QR code payment.
Read more:-
Mini Militia – Everything You Need To Know
Twitter – Everything You Need To Know
How Paytm grows:
– 2010– It was founded in 2010 by Vijay Shankar Sharma, initially at that time he invested 2 million dollars. Initially, it works only for prepaid mobile recharge, DTH recharge, and some more recharges.
– 2014- In January they launched the wallet system. After that, some companies like Uber and Indian railways added new payment options through Paytm.
In 2015 Paytm added more payment options for users to easily pay through it like they gave the proper option of metro recharge, electricity, gas, and water bill payment. Which is easy to pay.
– 2016– In this year they launched fabulous payment options for booking movies, amusement park ticketing, and flight tickets. After some time they also launched rail bookings. Which makes it easy to book rail tickets for users.
– 2017– In this year Paytm is the first payment app to cross over 10 crores (100million) downloads in India. In the same year, they launched the Paytm payment bank and a conversation option for users by this option users can chat with payment.
– 2018– In this year users can get direct payment into the bank through Paytm, UPI, card at 0% charge. In March they invested 9 crores (90 million) for wealth management and investment.
– 2019– In March the firm launched a loyalty program with the name of Paytm first and also partnered with Citibank to launch the Paytm first credit card.
– 2020– In July Paytm partnered with Tata Starbucks for users of both can order food online and do online payment easily in the pandemic of coronavirus(covid-19).
Read more:-
Features of Paytm:
– You can pay money to merchants by their phone numbers, scanning their QR code, or the e-commerce platform of Paytm.
– You can pay or invest in SIP by using Paytm.
– Paytm also takes care of your entertainment because Paytm has various games to play and by playing some games you will get a chance to earn as well.
– You can also book or buy tickets for movies, trains and you don't have to go outside. You can book easily online and in this pandemic, it will help you.
– With the Paytm application, you can do various transactions like mobile recharge, DHTV recharge, bill payment of various things like electricity and water.
– In the Paytm application Paytm wallet is the easiest way to transfer money and for this, you can recharge it easily through credit card, debit card, net banking, and UPI as well.
– If you want to buy various products as per your need, Paytm will help you because it offers an e-commerce platform where you can buy your products easily.
– Paytm offers you a 24×7 facility for doing transactions.
Read more:-
How much money can you send in a day?
In Paytm there is no limit to sending money. You can send money as per your wish.
If you do a 10000 rs transaction there will be no charge but if you did above 10000 transactions in a month you have to pay a charge for it.
You have to pay 1.75% of charged plus GST
If you are doing a transaction through Paytm to Paytm or to the merchant, there is no charge for you, and if you are transferring money through Paytm wallet to Paytm payment bank or another bank account you have to pay a charge of 5%.
How to download Paytm?
Step1- You have to go to the play store or app store.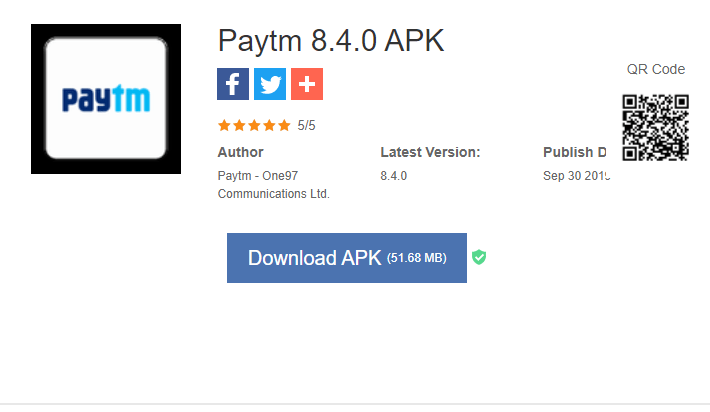 Step2- Now you have to click on the search bar and type Paytm.
Step3- Now you can easily click and install the Paytm app.
Paytm Mall:
In February 2017 Paytm launched its Paytm mall app. In this app, consumers can easily buy many things through 1.4 lakh registered sellers.
Paytm is a B2C model which is inspired by the largest B2C retail platform in China.
In India Paytm mall has 17 fulfillment centers and it also partnered with more than 40 couriers.
In March 2018 Paytm mall raised 200 million dollars from Saif Partners and Alibaba Group.
Is Paytm safe?
Paytm is the most trusted money transaction application in India.
Your all is completely safe. Users should trust Paytm because the Paytm company tweeted from itself, you can continue to enjoy your Paytm app as normal.
Frequently ask questions?
Q-1 How can you update your mobile no to different Mobile no?
Ans- If you are not able to update your new mobile no in Paytm so you have to follow these steps-
Step1- You have to go to your profile section and on the edit profile.
Step2- Now you have to go to the Mobile no field and enter your new mobile no which you want to update( only enter that no which is not already registered in Paytm).
Step3- Now enter the 6 digit OTP  which is received in your registered mobile number.
Q-2 How to KYC in Paytm?
Ans- For KYC you have to log in to your account on the Paytm app go to the My 'Profile Settings' section after the click on 'Complete Your KYC'.
Now select your district and state. Now you can see the nearby KYC center so go to the KYC center.
You have to take your required documents such as Adhar card, Voter I'd card, Pan card, etc.
Read more:-
Conclusion:
Paytm is one of the apps which make your life easier and save time in your busy schedule. It is a trustworthy app with millions of users.