How can I get unbanned from WhatsApp?
Are you banned from WhatsApp and can't get access?
WhatsApp is a well-known term these days.
If you have a smartphone in your hand then most probably you'll be aware of the platform.
WhatsApp is a pretty and easy-to-use message application. Instead of text messages, people love to use WhatsApp Messenger.
Using WhatsApp is pretty much easy you just need to visit the AppStore and download the application on your smart device.
Register an account with your contact number and that's it.
Now you can use the WhatsApp application. It's only available for mobile applications.
If you want to use it on your desktop or laptop then you have an option. You need to visit the website web.whatsapp.com and scan the QR code.
After scanning the code with your WhatsApp application now you can easily use the platform on your laptop or desktop.
You can share text-based messages, images, videos, and documents, even you can share your live location as well.
You can do a lot of things.
You can share your stories in the form of pictures and videos.
You can create a WhatsApp group and can add the people inside the group for discussion inside the group.
WhatsApp is the largest application, with more than one billion people using WhatsApp applications on a daily basis.
WhatsApp was initially developed in 2009 by Kam Jaun and Brian Acton two ex-employees of Yahoo's biggest tech company at that time.
Just like any other social website WhatsApp also has its own policy.
Make sure not to violate that policy otherwise, you may get banned from using the service.
It's the main concern and the reason why are you here. How o get unbanned if you're already banned on the platform?
There are basically two types of banned, the first one is temporarily banned and the next one is permanently banned.
WhatsApp has some strict guidelines that you need to make sure not to violate these guidelines.
Now, I'm gonna share with you the exact guidelines you should make sure not to violate.
Want to learn more?
Cool WhatsApp Group Names Suggestions
How to Hack & Protect Someone's WhatsApp Account
WhatsApp guidelines and basic mistakes you're doing:
1. Sending bulk messages to unknown people not saved in your contact list.
Sometimes, we send bulk messages because it may be our personal or professional reasons for that.
You may be using third-party software and applications for doing so.
Make sure not to do that if you don't want to get banned from the platform.
2. Sharing the links and URLs multiple times. Sometimes you may send the links and URL of any website multiple times to unknown people.
WhatsApp considers it spamming.
Make sure not to do it at all because your WhatsApp account may get banned.
3. Creating porn and adult-related groups and broadcast list and sharing such things on the WhatsApp platform.
Make sure to avoid this if you're already doing it.
4. Maybe your WhatsApp number banned by many people.
Maybe you're sending messages to unknown people and they might get a report to your account then there is more chance you'll get banned from the platform.
Make sure not to do that if you're already doing so.
5. Uploading and sharing abusive or irrelevant content that may harm some people or communities, make sure to avoid such things from the platform.
6. Sharing the same content again and again without giving any time interval.
Sometimes you may need to share some messages with a number of people then make sure to give some intervals between sharing the content on WhatsApp.
If you're not doing so then WhatsApp will consider it a spammy activity and can ban you.
These are the possible causes you may get banned from using the service.
Want to learn more?
How Can I Unblock Myself On WhatsApp
How Do I Know if My WhatsApp Account Has Been Hacked
Now you're banned and you can't do anything about that.
I read so much content available on the internet related to WhatsApp account being banned, there are tons of information shared.
Some say you need to click on the support and report immediately, some say delete the account and create a new one.
Now I'll share my point. If your account is banned then there may be two possibilities, either your account will be banned temporarily or it may be permanent.
If you can see the countdown clock running on your WhatsApp account and it asks you to wait for 12, 24, 48, or sometimes 72 hours then you should wait for that.
There is nothing you can do about that. If you can't see the countdown clock then you have another option for that.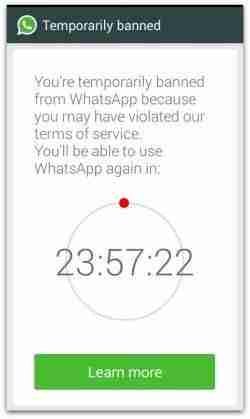 Steps you can follow to get an unbanned WhatsApp account:
I got temporarily banned on WhatsApp almost 3 to 4 times but I got unbanned after a certain time.
I was sending repeated messages again and again to unknown people was the reason why I got banned from WhatsApp.
Thankfully it was temporary and soon I got unbanned.
1. If you got banned from the platform then you have the option to wait sometimes.
You can wait for a week. If the problem is not solved then make sure to follow point number two.
2. Delete your WhatsApp account and uninstall the application.
After that clear the cache from your smartphone reinstall the WhatsApp application and create a new account with the same number, You'll see this type of message as shown below.
First, take a screenshot of it and then click on the support button.
After that, you'll see it'll ask you to explain the issue.
Make sure to write your problem and elaborate on it fully.
Now send your issue to WhatsApp support email ID support@whatsapp.com.
After some time, you may get a response from the WhatsApp support team.
It may take up to 24 hours, so make sure to keep patience.
If they make any mistake then they'll definitely consider your request of unbanning the account but if the problem is from your end then you'll not get unbanned make sure to move to the third point given below.
3. If still, the problem is still not resolved then you can try the alternatives of the WhatsApp application like GB WhatsApp, Ozzy WhatsApp, WhatsApp for business, etc.
If the problem will not resolve then you have an option.
You can try the alternate option for that.
You can find lots of alternatives for the WhatsApp application.
As I already told you, you can download the GB WhatsApp.
It's not officially available on the internet, you can use the APK.
Want to learn more?
13 Mind-Blowing Facts About WhatsApp
Best WhatsApp Group You Should Join Now
Here is the link. You can download the application and can start using it.

GB WhatsApp is even better than a normal WhatsApp application.
It has lots of extra features that you'll not find in normal WhatsApp.
There is one more application from WhatsApp itself but it's for business purposes.
You can use it for your personal use as well.
Just download the WhatsApp for business application from the PlayStore or AppStore register your account with the same number and start using the WhatsApp application.
The good news is you can still use the WhatsApp application and the bad news is you can't get back to your WhatsApp groups and chats.
Maybe this content you'll not get again.
4. You can try to connect with the WhatsApp team as well.
WhatsApp is a company and every company has its social pages.
You can find the official Facebook, Twitter, Instagram, and even LinkedIn pages.
Just go to these pages and explain your issue.
Message on these pages with your request and your banned number as well.
Shoot at least 4-5 times messages a day.
You can also get in touch with the WhatsApp team member.
You can easily find the employees on these social pages.
You can tag them and explain your issue.
Make sure to be clear with your issue and explain it politely.
I am not sure about this trick but I hope it'll help you out.
5. Last but not least, now your WhatsApp account is gone.
You have the only option to take the backup of your WhatsApp chats.
You can easily find the backup of your WhatsApp chats in your phone file manager.
First, you need to go to the WhatsApp folder in your file manager then you need to find the database folder.
After that find the message encrypted file. Copy that file and save it wherever you want.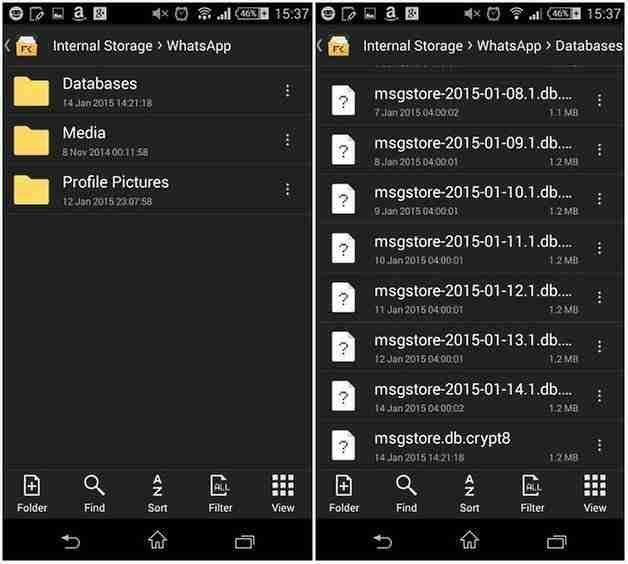 Make sure it's an encrypted file you can't read this file with the normal text editor and I never tried it to read.
Still, you can try one more thing just install the Python language on your laptop or desktop and open with that program Maybe you'll be able to open the file and read the messages.
There can be multiple reasons for your WhatsApp account banned.
Still, there is hope you can contact the WhatsApp support team and they'll definitely reply to you.
Make sure to follow all the steps I discussed above and don't fall for the fake services available on the internet.
There is no such thing that can help you to unban your account.
Either you need to wait or you need to use the alternate option.
Want to learn more?
190+ Best WhatsApp & Instagram Status & Stories
Hide My Activity From Followers on Instagram
Bottom Line:
I hope you found this article helpful.
Make sure there is no agency or third-party website or application that can help you unban your banned WhatsApp account.
Make sure not to fall for these third-party applications or websites that claim they can unban your WhatsApp account.
If you have any issues make sure to mention them in the comment.
If you have any questions feel free to ask. If your account got unblocked please mention it in the comment.