13 Mind-Blowing Facts About WhatsApp
Hey, folks welcome to one of my new awesome content.
In this article, I'm gonna share with you the latest and well-known facts about WhatsApp.
Like every other messaging application, WhatsApp is also a medium to stay connected with your loved ones.
WhatsApp was founded by Brian Acton and Jan Kaum in 2009.
First, when it was invented it was just a status-sharing application where people could share what was coming into their minds later it released its 2.0 version and converted this status-sharing application into a messaging application.
Here I'm gonna share with you some amazing facts about the WhatsApp application you may not know.
Here is the list:
1. WhatsApp was the first messaging application to operate on mobile. Before WhatsApp, there were a few more applications were there.
The popular ones before WhatsApp were BBM, G-Chat, and Skype.
2. Brain Acton and Jan Koum were the two who worked at Yahoo but left the company and decided to start their own firm.
WhatsApp when first started was just a status-sharing application where people can share their thoughts and ideas with others with the help of the status.
Want to get more?
190+ Best WhatsApp & Instagram Status & Stories.
Hide My Activity From Followers on Instagram.
3. They applied on Facebook and Twitter as well for job opportunities but got rejected by both companies.
They were broken and finally decided to establish a messaging application that can help people stay connected with each other and that's the WhatsApp was born.
4. WhatsApp has no ads, no sponsored link you'll find, not even a marketing campaign, etc. They wanted to create a free platform where everyone can stay connected with each other without any hassle.
5. WhatsApp has never invested a single penny in user acquisition, PR marketing, etc. It's from an initial point that was completely free and till now you don't need to pay a single penny to use it.
6. WhatsApp is the largest application right after Facebook with over 1.5 billion users across the globe. You can imagine the database.
7. WhatsApp is banned in China and Iran. It was temporarily banned in Brazil and Turkey also.
The best content for you:
How Do I Hide Instagram Followers?
17 Most Followed Indians on Instagram.
8. Here is one more hack for you.
Suppose someone disabled the blue tick or what we call the read receipt then how you can know if someone saw your messages or not?
Here is the hack for you.
You need to send the voice message to that guy who disabled the blue tick when he or she listens to that voice, you'll get the blue tick even if they disabled the blue tick.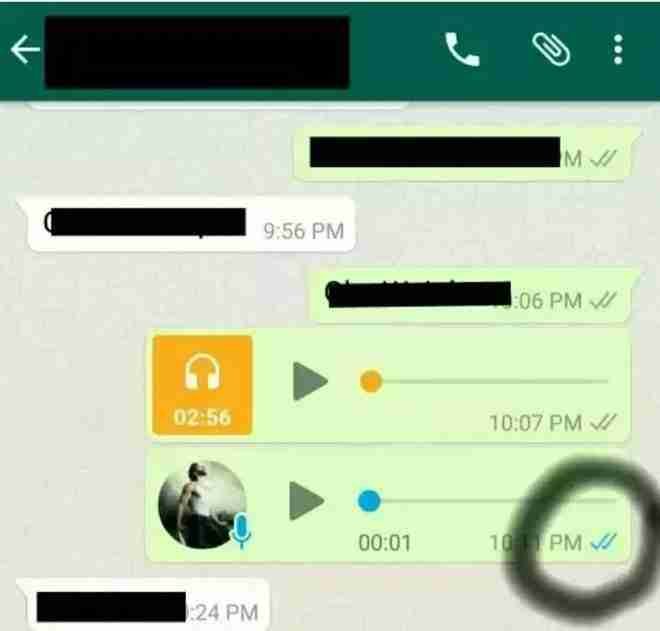 It's simple to use the hack, make sure to use it to spy on whether they have disabled the read receipt and making you a fool or not.
9. Here is a more fact about WhatsApp is that you can't send messages to yourselves.
Sometimes you need to bookmark some important things on your WhatsApp for sending to your friends and family.
Here is the trick, either you can use the contact who has blocked you or you can use your own contact as well.
For using your own contact make sure to add your contact number on your device and connect to the Internet after some time you'll see the WhatsApp icon at the bottom of your contact, click on that icon and you'll see WhatsApp with your chat will open on your mobile.
Want to learn more?
Getting a "link not allowed" Error on Instagram.
Four Tools to Schedule Instagram Posts – 2020.
Make sure to bookmark the important things there. You can also use this hack with the help of WhatsApp groups.
You can create a WhatsApp group and add one or two friends inside them, make sure to choose any random name for the group.
You can now remove other people you added to the group and now you're alone inside the group.
You can use this WhatsApp group yourself to add important bookmarks and media files for later sharing with others.
10. You know you don't need to open the emoji window on your WhatsApp and need to manually search for the emojis, Here is a quick hack for you.
All you need to type is the name you're feeling, Suppose you want to show your love to your partner and suddenly you type something related to love, you'll see the heart or related to love emoji will appear on your mobile screen.
Now you can use these emojis and the best part is that you can use these emojis by just searching them with names.
Here are a few with their name.
Star
Giggle
Vomit
Explore
Small/large
Judge
Mechanic
Star
Turban
Pregnant
Baby
Angel
Jin
Dracula
Mermaid
Zombie
Climber
Yoga
Jug
11. WhatsApp has a total worth is more than the NASA annual budget.
Yes, that's true when Facebook bought WhatsApp for 19 billion it was the biggest tech deal at that time.
The non-other company was sold in that much prize.
Here are a few more for you:
Steps to View & Delete Instagram Search History.
How to Know My Direct Message on Instagram Read or Not.
12. WhatsApp is using 256-bit end-to-end encryption.
This means the messages you'll send will be protected with the security layer. This means no one, not even WhatsApp can read your messages.
E2E encryption means every message you sent from your device is protected with a lock, it means it contains a secure layer no one can suggest that particular key.
When you'll receive the messages then only your WhatsApp can decrypt that code and can read the text.
It can also be understood by taking an example, suppose I have given you a puzzle and there is a third person who carries that puzzle to you.
Until the puzzle will reach you it remains unsolved when it will reach you it becomes automatically solved and makes a visual picture that you can easily understand.
This is what we call E2E encryption.
The messages are protected by that encryption and no one can read the text in-between sending and receiving the messages.
13. You can do basic formatting of your text messages and can send the messages with bold, italic, and strikethrough.
There is a trick to using the formatting feature.
If you want to use the bold feature then you need to put the * symbol before and after the text or sentence.
For italics, you need to place that star with_ and for strike through it'll be ~.
You can use these formatting options for making your text messages more appealing and attractive.
Make sure to use this feature in your text messages.
Want to get more about the topic:
Secrets to Get More Instagram Video Views.
Ways to View Private Instagram Account.
Wrap Up:
After concluding the session I can say that these are the best-known WhatsApp facts.
I hope you read these all and make sure to practically implement them.
If you have any questions or suggestions make sure to comment down below.
Most of these facts you may probably know but still, you'll find something new.
Do you have more facts? Don't forget to share in the comments down below.