What are the best things about WhatsApp?
Most probably you know about the most trending chat application these days.
There are tons of applications exactly the same replica of WhatsApp but still, we prefer WhatsApp for one-to-one communication.
The company was started back in 2009 by Brian Acton and Jan Koum two former employees of Yahoo's biggest tech company at that time.
They wanted to create such a platform that can help people to share their day-to-day lives and hear what was born.
When initially created it was just a simple status-sharing application where people can only share their daily life by text-based statuses.
Later it was integrated and converted into a text message application. Now WhatsApp has over 1.5 billion users around the world and you can't even do the text-based boring chats but you can even do video calls and voice calls as well and the best part is it's free.
Want to learn more?
Cool WhatsApp Group Names Suggestions
How to Hack & Protect Someone's WhatsApp Account

Find more statistics at Statista
Not even charge a single penny for that. There are some questions that come to our minds.
How has WhatsApp become a giant success in a short interval?
What's its major income source? Why did Facebook buy in a humongous $19 billion? And a lot of questions.
We try to figure out the exact things that will help you understand the success of this small but giant user-based application.
I'll try to figure out the same exact things that will help you to understand the best things about the most popular message application on the web.
Some points need to know about the application:
1. WhatsApp origin and its popularity:
WhatsApp was initially started back in 2009 by two ex-employees of Yahoo, the biggest tech giant at that time.
They both worked in the same company. Initially, the idea came into Jan Kaum's mind.
After leaving Yahoo he spent his time traveling and chilling.
In between that time, he also applied to the two biggest tech giants at that time Facebook and Twitter but unfortunately got rejected.
He was so frustrated and finally, he decided to start work on his idea of creating an application that can help people to communicate.
Initially, when the WhatsApp application was developed it was just a status-sharing application where people used to share their text-based status.
After some time, it was converted into a text message-based application.
Brian Acton later joined the company and was rewarded as the cofounder.
The initial funding was given by the five ex-employees of Yahoo by Brian Acton.
The second and the third were given by Sequoia Capital in 2011 and 2013.
The company value now became 1.5 billion.
The company started growing and the user base started increasing.
They have very few employees at that time. They had only 15 people on their team.
The major reason behind the popularity of the application may be that time there is not any such application that can allow you to send direct messages without even charging for messages.
It was such a simple application that could even work at a low data rate. WhatsApp started growing especially among young people at that time.
People have a simple mindset that they need someone's number because they want to communicate over WhatsApp.
Not on calls, they wanted to talk over WhatsApp.
Most of the youngster love stories are on WhatsApp.
WhatsApp is a really simple and easy-to-use application.
Now WhatsApp is not only limited to personal use, but now you can use it for your business as well.
You can share the daily offers and prizes on WhatsApp and can promote your products and services on the app.
There is one more platform the extended version of WhatsApp launched in 2018 is WhatsApp for business, where you can list your business and can showcase your portfolio with your customers and users.
Now you can also use the business API for sharing and tracking the live updates of your customers and it can also help you to grow your database.
Want to learn more?
How Can I Unblock Myself On WhatsApp
How Do I Know if My WhatsApp Account Has Been Hacked
2. What's its major income source:
As I already covered WhatsApp is free to use platform.
You don't need to pay a single penny for that, instead of that Where the revenue comes from? WhatsApp doesn't have any ad network.
WhatsApp doesn't sell ads. The creator wants to create a free platform that should be ads-free.
They initially started charging as little as a $0.99 yearly subscription fee each year. It means you need to pay that much amount each year.
Later when it was acquired by Facebook the company started its service for free.
Well, when they charged an annual subscription, how many of you paid for that?
Most probably most people didn't give any subscription because it automatically renews itself without even charging the money.
Brian Acton and Kam Jaun want a free-to-use user-friendly text message-based application because those times text messages were something that you needed to pay off.
When Facebook saw the most user retention was going towards a text message application they decided to buy the application and offer a humongous $19 billion.
Brain Acton and Kam Jaun know that whatever amount they will demand Facebook will pay them.
Finally, Facebook acquired WhatsApp and now Facebook has already over 2 billion users and WhatsApp over 1.5 billion.
You can imagine the largest user database only has Facebook alone.
According to TheNextWeb, Facebook alone has the world's most popular four applications in the world.
It claimed that WhatsApp data is used by Facebook to show you more relevant ads.
Now, I have just Googled it and found something interesting, you should also read it.
Make sure to read the full article.
3. Why Facebook bought WhatsApp:
The answer is simple. Guess what?
Facebook is a social networking website that people use to stay connected with their loved ones.
Facebook is the main objective that people will spend time on the platform.
The more time we'll spend the better revenue the company will earn.
Facebook doesn't want people will go anywhere else and Facebook wants people will spend more time on their platform not anywhere else.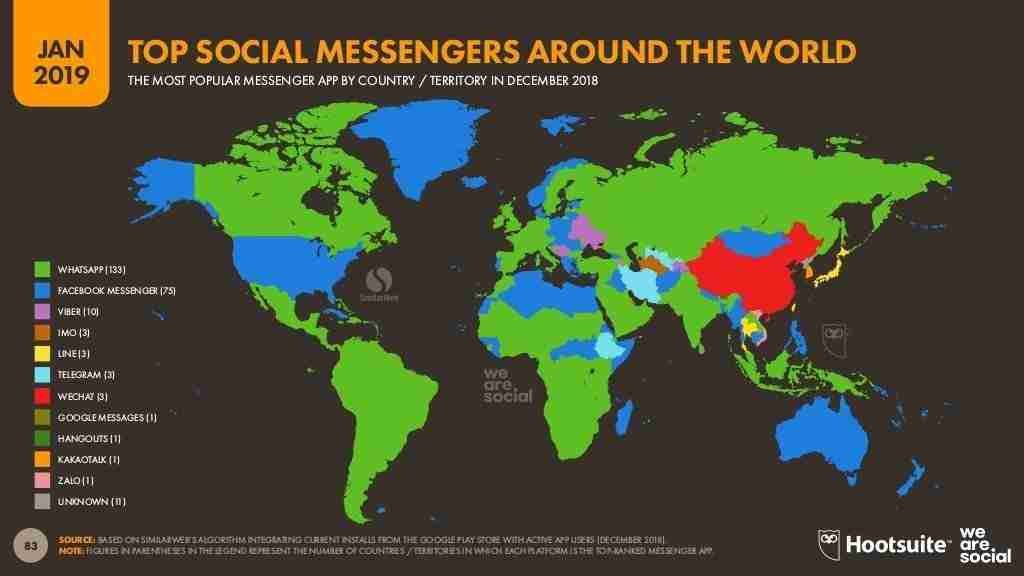 The target audience of the company is youngsters and young people generally have a tendency to explore something new.
They always make a trend for new things. When WhatsApp initially launched, the text application started getting more responses.
Mostly young people coming on the platform.
Now people have an alternate option for spending their valuable time.
Facebook doesn't want that. That's why they don't have any option but to buy WhatsApp.
You can also say WhatsApp is a competitor and on the other hand, the company thought that WhatsApp is the only application where they can get the user's contact number.
A contact number is the most private thing for any person. It's even more private than an email account.
When Facebook acquired WhatsApp WhatsApp had almost 450 million users.
Facebook with the help of WhatsApp data you share on a daily basis shows you more personalized ads on their companies like Instagram and other platforms.
Let's understand it by taking an example, suppose you're talking to someone and you're discussing Nike shoes.
Facebook got the idea that you were discussing a particular Nike shoe, which means you're looking for Nike shoes.
When you'll visit any platform like Instagram, Facebook Messenger, or Facebook platform you'll see Nike shoe ads.
This is what we call more personalized ads.
Facebook uses your chat data to show you more relevant ads that may get more clicks and ultimately generate more revenue for the company.
Sometimes when you download the application on your smartphone, it'll ask you to get access to your GPS location.
When you give access to your GPS location, the application will start tracking you.
Why it's needed to give the location access?
Let's understand it by taking an example, try to visit any digital store and spend some time over there, You'll see if they have enabled the ads on Facebook and other networks, and you'll see the ads of the same company or store.
It's only possible because you've been given access to your GPS location. Make sure not to give the location access if you don't want to track it by the application.
Want to learn more?
13 Mind-Blowing Facts About WhatsApp
Best WhatsApp Group You Should Join Now
4. Not limited to text messages:
Now WhatsApp embedded lots of features into its platform.
When initially started the company it was only limited to sending and receiving text messages but the company implemented a lot of things to its platform.
Now you can't even send text messages, you can even share media files like images and videos, you can share document files as well, you can do voice and video calls, and you can share the live location if you want someone will track you, you can create a WhatsApp group and broadcast list for personally and publically sharing your thoughts and ideas, you can do a group video chat as well, etc.
WhatsApp now become a complete one-to-one connection application where you can't even share normal texts rather you can do a lot of things.
5. Fully secure application:
It's not like Facebook and other social networking applications where you can share things publicly.
It's a one-to-one application where you can stay in touch privately.
If you want to convey some message to any specific person then you only need to send text messages only to that person.
The message you'll send will be protected by end-to-end encryption.
This means either you or the guy who sent you a message can only read that text message, not no other person can read it.
It's protected by private and public keys that can only be accessed by you and the sender.
Want to learn more?
190+ Best WhatsApp & Instagram Status & Stories
Hide My Activity From Followers on Instagram
6. WhatsApp for business:
When people, when started using the WhatsApp application for their business, Facebook got that point and built an application called WhatsApp for business.
You can easily download the application from PlayStore or AppStore.
Make sure to download the application and list your business over there.
You can list down your business name, category, working hours, website, email, etc.
When people will visit your WhatsApp business account they will see the business account and you can set the predefined questions in messages.
When people will visit your WhatsApp account they will introduce you to these questions first.
You can show your products and services in catalogs. You can set the greeting messages.
When your customer or user sends you a personalized text WhatsApp Business will send the automated message to that person.
Bottom Lines:
I hope you read the full article and now you have an idea of how WhatsApp can really help you, not limited to connect with your loved ones but also helpful for your business.
WhatsApp is really a great tool. If you have the right knowledge, you can use it wisely and can generate lots of revenue.
If you have any questions or suggestions make sure to mention them in the comment down below.
Tell me which one you like the most.