How often should I post on Instagram-2020?
Instagram is the most engaging social networking platform where you can share pictures and videos with captions and relevant hashtags.
You can't even share short videos, now even you can share long videos with IGTV.
Now the question arises How often should I post on Instagram?
Well, there is not any specific timing. Many marketers did comprehensive research about how often you should post on Instagram.
In this article, I'm gonna share with you some stats that will clearly explain the posting schedule on Instagram.
Instagram has come up with lots of changes in the past few years.
Now getting engagement is quite difficult.
If you really want to stand out then you have to post not only consistently but also you need to post quality content also.
Quality means quality there is no compromise in that.
Learn More:
Best Instagram Fonts Generator Websites | Instagram Fonts
Instagram to Video Download | IG Video Downloader
How often should I post on Instagram?
Well, it's a general question that most Instagram users ask.
There are many companies and influencers who post very frequently.
They post at least 10-12 posts a day. Is it really work?
Well, there is not any definite scenario for that.
After studying many accounts I can say that if you're a beginner on Instagram then surely you have to post on a regular basis and consistency.
If you want to grow your Instagram account fast then you must need to post at least 10-12 times a day but that doesn't mean you're posting anything that is not relevant.
Posting frequently is important but care should be taken don't forget about the quality of the content also.
Your Instagram post should have an attractive caption and location tag, and also you have to use relevant long as well as short-tail hashtags.
Want to learn more about Instagram?
What should you not do on Instagram
Can You Use Instagram Without an Account
If you have a business account:
If you have a business account, then you have an opportunity to track your performance.
There is an option in the Instagram business account called insights where you can track the exact insight of your Instagram posts.
How have your Instagram posts performed over time?
You can utilize this and make a plan to schedule your future posts according to that way.
It only works for your business account not for personal accounts.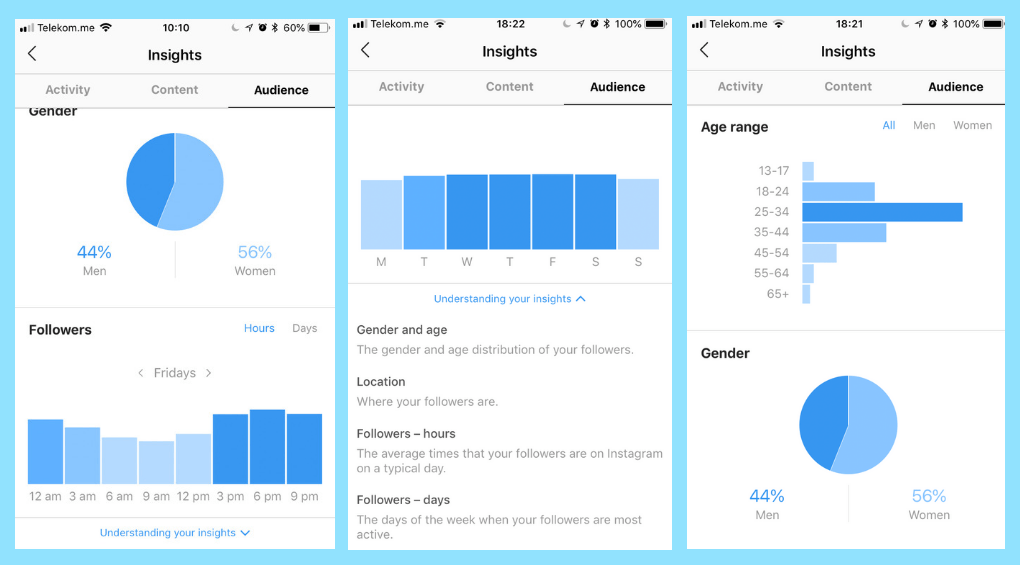 You can track the demographics of the users that come to your website from your Instagram account.
You can track the real-time data from your insights.
Read More Stuff:
How to Find Someone on Instagram | Find Friends
Look at Someone's Instagram Stories Without Knowing Them
Beat Instagram algorithm and increase your organic reach:
Instagram in the past few years did so many changes in its algorithm.
If you want to reach your audience organically then you have to stand out from the crowd.
Posting on Instagram is not enough to gain followers.
You have to use Instagram's other features also.
There are so many features that you can use to grab attention.
Instagram story feature, sharing long videos on IGTV, etc.
Videos getting more engagement as compared to images.
You have to post videos with hashtags and a good caption to attract more followers.
You have to post frequently so that your post reaches the maximum number of users.
Post at least 5-6 times a day.
Your post should be relevant and authentic, post quality should be high, etc.
How to post Instagram stories?
Instagram stories are the best place to get more and more engagement.
There is a formula for posting stories.
Your stories should be engaging and try to post videos in your Instagram stories.
Post Instagram stories at least 3-4 stories a day.
Always try to choose engaging hashtags and also don't forget to use the location tag in your Instagram stories.
You can also use the interactive elements in your Instagram stories to get better engagement.
While posting Instagram stories you can use creative filters to figure out which post performs the best.
You should post at least 3-4 stories a day.
If you're a blogger or a YouTuber then you can provide the link to your latest content in your Instagram stories.
When people will come to see your stories they will redirect to your content and you'll get the traffic.
Almost 400 million people use Instagram stories on a daily basis.
Such a huge number is.
So if you want to get more followers it's necessary for you to post stories frequently.
Does study other Instagram accounts on how they are posting the content?
Since every business has its own niche.
You first need to identify that you are different from others.
Suppose you are a chef then your audience will be according to that.
Your audience should be those who love food.
Well everyone likes food but it's just an example.
So your posting schedule will be according to that.
You always keep in mind that posting the content is not as important as posting the right content at the right time.
It will give you more engagement and more likes.
Instagram's new algorithm reveals that if your post performs the best in a short period of time then you'll be more likely to go viral.
Just because there is not no share button on Instagram posts.
The only thing that you can get an advantage of is hashtags.
So your hashtags should be relevant and popular.
Never use the ban hashtags or those that do not relate to your Instagram post.
For simplicity, you can create a set of hashtags while posting the content.
You can create a group of hashtags that can frequently change according to your Instagram post.
By doing this you can consistently post the content and can get high engagement and followers to your Instagram account.
Conclusion:
So after concluding the session, I can say that there is not any specific time to post the content on Instagram.
You have to keep doing research on your own.
It totally depends on the type of business.
Maybe your audience is online at night or your audience will be online in the morning.
You have to keep research for yourself. If still, you still have any questions then comment down below.
I'll definitely get back to you shortly. Peace!