Instagram is one of the most popular social networking platforms. If you want to connect with your loved ones, friends, and families and share your daily life with your people then there is nothing like Instagram.
The platform has over 1 billion users and over 2 billion downloads across the globe across devices. It's a mobile platform so you can download the application from PlayStore or AppStore depending upon the OS you're using.
Once you'll download and install the application, now, you need to register a free account if you don't have an account. Once you'll register a free account, make sure to open it and start using it.
The platform has now integrated a lot of features, now, you can't even share visual content like images and videos, you can even send direct messages, you can send and receive document files and folders, you can like and follow others and others can do with your account the same, you can share stories, reels and much more.
You're using Instagram but facing any issues while using it. Now, you're looking for support. Is there any way to connect with Instagram support?
Is there any way to connect with a real human being to connect in order to resolve your issue? Well, in this article, I'll explain all the possible ways of connecting with Instagram support because you may be facing some issue that needs to be resolved as soon as possible.
In this article, you'll get information about Email Instagram Customer Support. Is there any email where I can email my issues along with proofs?
Stay with me and read the article and let's deep dive into it.
Well, Instagram help os poor not from now but from its inception. We know it's difficult to handle so many users' queries is not easy but still, there has to be some improved way of support system.
Read more:-
1. Report a problem:
If you want to report a problem from your Instagram account then there are some steps that you may need to take in order to report the issue.
Make sure you have an updated version of your Instagram application. If you have an old version then please update it before following the steps.
1. First, you need to open the Instagram application on your device. Once the application will open, make sure to go to your profile by clicking at the bottom-right of your mobile screen.
2. Now, click on the top-right of the hamburger like an icon. When you'll click on that, you'll find several options. Make sure to hit the SETTINGS tab.
3. Here, you'll find the HELP CENTRE. Click on that and here, you'll find an option called REPORT A PROBLEM option.
4. Here, it will ask you to shake your device or just fill out the form. When you'll do this, it'll show you a form. Make sure to fill out the form and details and also attached the screenshot.
5. Make sure t completely fill out this form and send it to Instagram. Once the form will be sent, make sure to wait for a while for getting a response it may take up to 24 hours or sometimes more.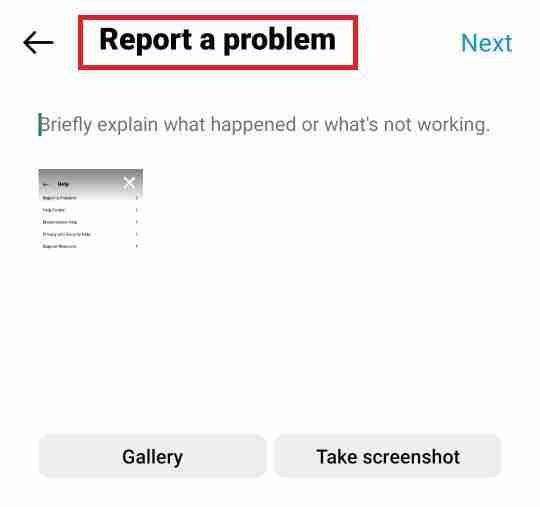 Read more:-
2. Use community forums and Facebook groups:
As we know there is not any direct support email or contact number for Instagram support. If you still want to resolve your issue then the best option is to search online.
You can go to Google and just type your query. Find Facebook groups related to Instagram and ask them about your issue.
Discuss it on Instagram with your followers, maybe anyone knows the solution. You can also write your query in the comments and free to share it with us. There is a paid service where you can go and can ask your query from well-qualified tech professionals who can help to solve your issue.
These are the only ways to get your issue resolved. If you have any other then please do share them with the community in the comments down below.
Read more:-
Bottom lines:
Hope you guys found the article helpful. If you have any further questions or anything you may have to share with us please write them down in the comments down below.
Make sure to read all the steps carefully and follow the same. There is no such direct email address for Instagram support, you can try plenty of ways as I explained here. Still, if there is any doubt or questions just ask me in the comments down below. Thanks.