Downloading apps from outside the Google Play Store on Android, known as sideloading, does carry additional risks versus apps from the official Play Store.
While sideloading apps like TubeMate may provide benefits such as additional features or earlier access, there are valid concerns regarding security, updates, and support. It is important for anyone considering sideloading an app to go into it with eyes open to the potential downsides.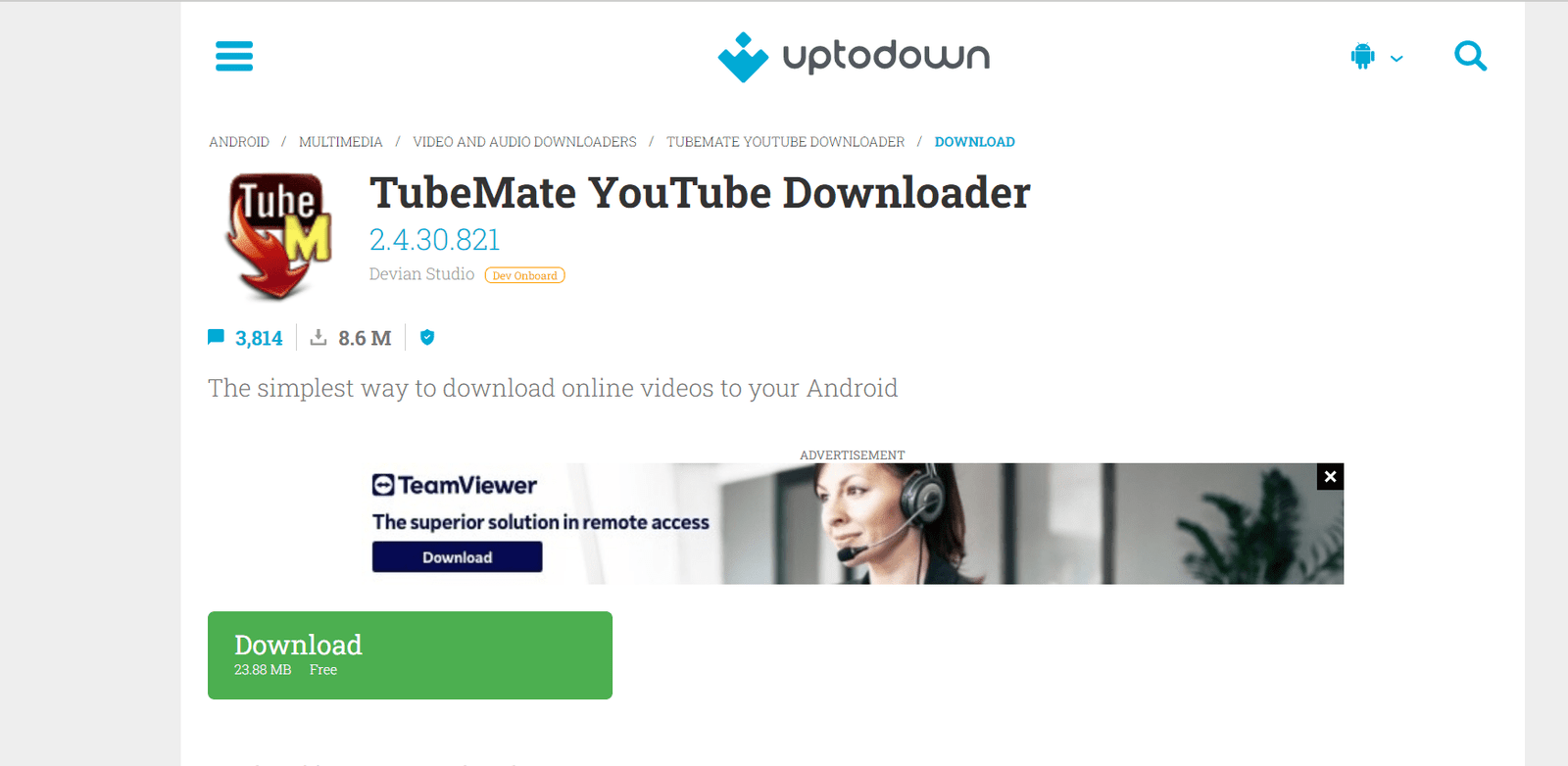 TubeMate is a video downloader app that allows you to conveniently download videos from YouTube and other websites to view them offline.
Versions of TubeMate are available both in the Google Play Store as well as directly from the developer's website for sideloading.
The sideloaded version claims to provide an ad-free experience and additional download options, but also comes with the risks of not going through Google's app review process.
Without Google's testing and approval, malicious software could potentially make its way into the sideloaded TubeMate app.
Although unlikely for a popular app, there is a small chance of viruses, worms, trojans, ransomware, or other threats sneaking in during development.
When sideloading, there are additional risks of unauthorized or pirated versions of paid apps also being distributed. While TubeMate itself seems legit, the sideloading process means fewer safeguards.
Read more:-
Sideloaded apps also do not receive automatic updates through the Play Store. Updates will only come if and when the developer provides them on their website, and there is no guarantee updates will continue long-term.
Without updates, security holes may not get patched and the app could eventually be abandoned. With the Play Store version, you at least get updates ensuring the app continues working well on future Android versions.
If any issues do emerge with a sideloaded app like security vulnerabilities, privacy concerns, compatibility problems, or poor performance, the resources for support also tend to be more limited.
While the developer may provide some support on their website or forums, it often cannot match the level of support from a company that also interacts closely with Google and the broader Android ecosystem. Issues may go unaddressed, leaving you with a subpar experience or even an unwanted unusable app.
In general, the risk of sideloading TubeMate or any app is relatively low, but not zero. For many users, the probabilities work out fine and they continue using the sideloaded app without trouble.
However, it is best to go in with realistic expectations about the potential downsides. If security, updates or support end up being unacceptable, you have the option of uninstalling the sideloaded TubeMate and installing the Play Store version or alternative apps instead. With more options now available, many see the risks of sideloading as unnecessary.
While sideloading TubeMate and other apps may seem tempting due to additional features or early access, weigh the costs versus benefits for your needs and priorities.
Make an informed choice and if sideloading, take normal precautions like reviewing permissions requested, checking reviews from other users first, and using a reputable security app.
But overall, when possible go with the Play Store version for more stable, supported experiences—unless there is a feature truly only available through sideloading that is a must-have for you.
Be aware of the trade-offs, and happy downloading!
Read more:-
Here are a few more points to consider regarding downloading TubeMate or other sideloaded Android apps:
1. Lack of refunds: If you download an app like TubeMate from outside the Play Store and end up unsatisfied with it after installation, you typically cannot get a refund. Whereas Play Store apps can often be refunded within a limited time period if uninstalled.
2. Forbidden on some devices: Certain Android devices may outright block sideloading for security reasons. Though you may be able to enable it in some cases, it depends on the specifics of your hardware and software. It's best to check first before relying on a sideloaded app.
3. No Play Credit or Rewards: Any in-app purchases or subscriptions through a sideloaded app will not qualify for Play Credits, Rewards, or any other Play-related benefits. You miss out on those perks by sideloading.
4. Revoked or banned: Even if an app like TubeMate seems innocuous, Google could decide to revoke or ban that developer and app from the Play Store at any time for any reason. At that point, the sideloaded version would no longer have a Play Store counterpart and critical updates may stop. It could be left unsupported.
5. Technical setup complexities: While sideloading an app isn't too complicated for most users, the overall setup of allowing sideloading on an Android device in the first place can prove difficult for less technically inclined users. It's not as seamless as just using the Play Store.
6. Fewer integrations: Apps from outside the Play Store typically don't integrate as deeply with the Android operating system and other Google services. Things like Save States, Family features, Google Pay, Account linking, and more probably won't work with a sideloaded app.
7. Privacy and permissions: With less oversight, sideloaded apps may request permissions that seem overbroad for their functionality. Carefully scrutinize any permission requests to ensure data and privacy are protected before allowing access. It's hard to know how information might be used without Play Store policies to adhere to.
In summary, while sideloading the TubeMate video downloader app seems relatively low risk, it's good to consider these additional downsides versus installing the version from the Google Play Store.
For many users, the extra features and benefits of sideloading TubeMate may not outweigh the potential costs.
But if you go into it with eyes open, take normal precautions, review details and only use what works for your needs, sideloading a select few apps can absolutely be fine.
Make the choice that leaves you most comfortable with the levels of security, quality, compatibility, support, privacy, and your overall experience using the apps on your Android device.
And as always, let me know if you have any other questions!
Read more:-
Final thoughts:
Despite of usability and features of the TubeMate application, you need to take care of your privacy and security.
Make sure to read the guidelines, reviews, and ratings before downloading it from any third-party website or app other than the play store.
If you have any other questions or anything you may have to share with me then please write it down in the comments down below. Don't forget to share the article with your loved ones, friends, and families.