The Google Play Store is the official app store for Android devices, offering a wide range of apps, games, movies, books, and more.
– Install or update the Google Play Store: Ensure you're using the latest version of the Google Play Store by navigating to the app on your device and checking for updates. If you don't have the app installed, you can download the APK file from a trusted source and install it manually.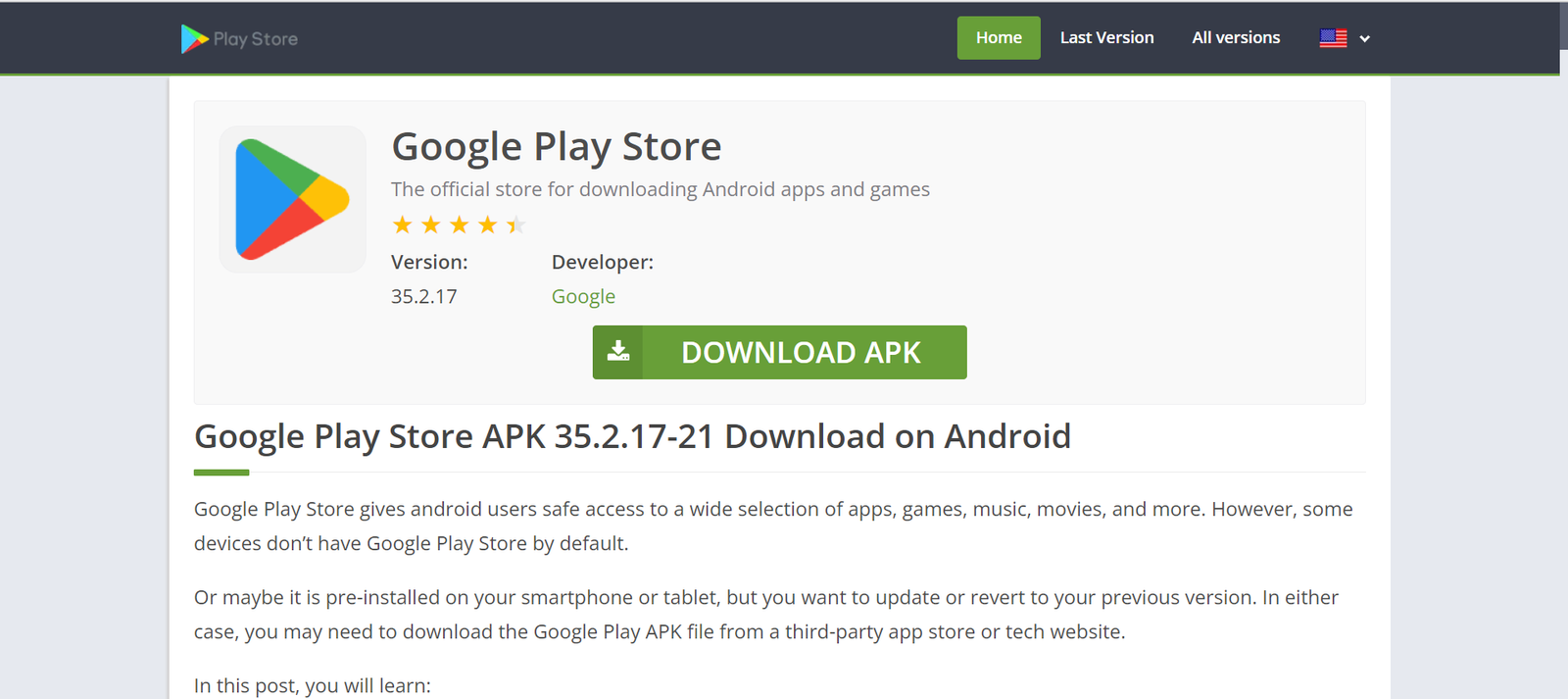 – Sign in to access the full features of the Google Play Store, and sign in with your Google account. If you don't have one, create a new account.
– Home: The home screen displays popular and recommended apps, games, and content based on your preferences and location. Scroll through the feed to discover new content.
– Apps: The Apps tab showcases popular and new apps, as well as app categories for easier browsing.
– Games: The Games tab displays popular and new games, as well as game categories and collections.
– Movies & TV: Browse or search for movies and TV shows available for purchase or rent.
– Books: Explore eBooks and audiobooks for purchase or download.
– Search: Use the search bar at the top of the screen to find specific apps, games, movies, TV shows, or books.
– Downloading: To download an app, tap on its title or icon, then tap the "Install" button on the app's page. The app will be downloaded and installed on your device.
– Updating: To update your apps, visit the "My apps & games" section in the menu, and tap "Update" beside each app that needs updating, or tap "Update all" to update all apps simultaneously.
– Uninstalling: To uninstall an app, go to the app's page in the Google Play Store and tap "Uninstall," or go to your device's settings, find the app under "Apps" or "Applications," and tap "Uninstall."
– Managing subscriptions: To manage in-app subscriptions, go to the menu and tap "Subscriptions." Here, you can view, modify, or cancel your active subscriptions.
– Payment methods: To add, remove, or edit payment methods, go to the menu, tap "Payment methods," and follow the on-screen instructions.
– Purchase history: To view your purchase history, go to the menu and tap "Order history."
– Family Library: Share purchased content with family members by setting up a family group in the "Family Library" section of the menu.
– Parental controls: To restrict content based on age ratings, enable parental controls in the menu under "Settings" > "User controls" > "Parental controls."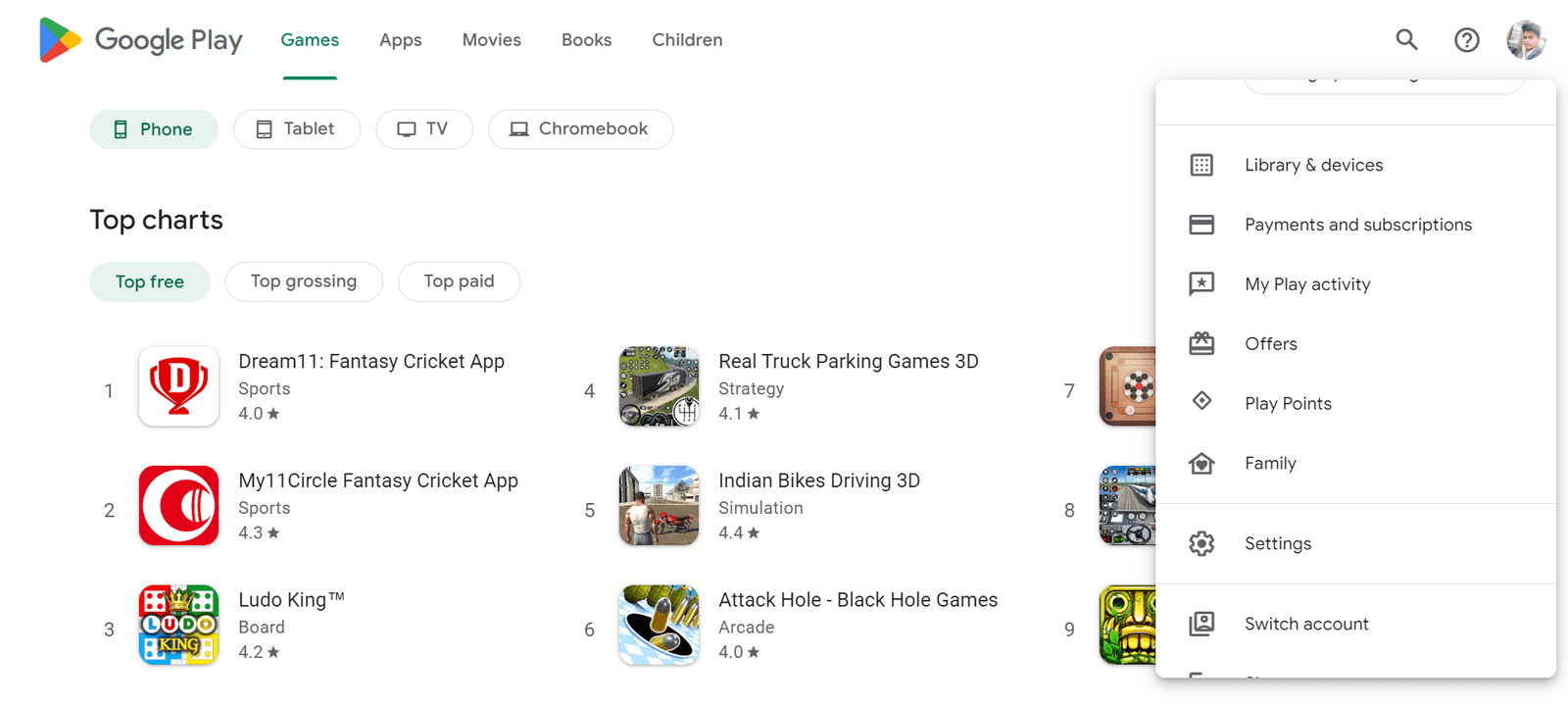 Remember to always download apps and content from trusted sources and keep your device's software up to date for the best experience.
Google play store is one of the most popular marketplaces across the globe with over 3 billion Android users. If you're a developer and or publisher then you must need to have your Android application on the Google play store.
In this article, I'll try to figure out how much it'll cost you to put your Android application into the play store.
Publishing an app on the Google Play Store is free.
Read more:-
However, there are a few costs to keep in mind:
– App development: The main cost for most developers is developing the app. This can range anywhere from $10,000 to $100,000+ depending on the complexity of the app.
– Publishing costs: While publishing on the Play Store is free, they do charge some fees for advanced options:
› App signing by Google service: $75 one-time fee if you use your signing key. Free if you use Google's key.
› Expedited reviews: $150 to expedite the review process for new apps or updates. Regular review times are typically 1-3 days. Expedited reviews aim for within 6 hours.
› App bundle expansion files: Additional file hosting is $0.50/GB/month. The main app APK file is free to host.
› Enterprise accounts: $30 annual fee to distribute apps to managed Google Play users in your organization.
– In-app purchases: Google charges a service fee for in-app purchases made through the Play Store. The fee is 30% of the transaction for most purchases. Some categories like physical goods or tickets have lower fees.
– Ad revenue share: If your app displays ads served by AdMob or other ad networks, the ad network will charge a revenue share on the ads shown, typically around 40-50% of the ad revenue.
– Taxes: In some countries, Google will charge applicable sales tax on Play Store transactions. The tax rates vary significantly between countries.
Does that help summarize the major costs to keep in mind when publishing an Android app? Let me know if you have any other questions!
Details about publishing on the Google Play Store:
– App approval process: After you submit your app, it will go through Google's review process to check for any policy violations before being approved and published. This typically takes 1-3 days but can be longer during busy periods. Expedited reviews are available for a fee if needed.
– App visibility: By default, your app will only be visible to users searching for it by name or browsing categories. To increase visibility, you can:
› Improve your app store listing with a high-quality app name, description, icons, and screenshots. This helps with search and browsing discoverability.
› Use search engine optimization (SEO) techniques like strategic keywords in your app metadata to rank higher in search results.
› Run app store search ads or Product Listing Ads to promote your app at the top of search results. These are pay-per-install ads, so you only pay when users install your app.
› Get high ratings and reviews from your users to increase your app's credibility and ranking.
› Join the Early Access program to distribute beta versions of your app to users ahead of the public launch. This can build buzz and reviews before fully launching.
– Monetization options: The main ways to make money from your Android app include:
› Paid app: Charge users a one-time fee to download your app. Google charges a 30% service fee on the purchase price.
› In-app purchases: Sell virtual goods, subscriptions, physical products, or other items within your free app. Again, Google charges a 30% service fee on most in-app purchases.
› Advertising: Show ads in your free app using a network like AdMob and earn a portion of the ad revenue. The ad network takes a percentage, typically 50% or more of the ad revenue.
› Freemium upsell: Offer your app for free but charge for additional features, levels, virtual goods, or other upgrades.
› Sponsorship or licensing: Sell brand sponsorship opportunities or license your app to other publishers.
Does this help provide some additional context around publishing on Google Play? Let me know if you have any other questions!
Read more:-
Here are a few more tips for publishing on the Google Play Store:
– Choose a good app name and icon: These are the first things users will see when browsing the Play Store. The name and icon should be memorable and reflect the purpose or brand of your app.
– Write an engaging app description: The description is your opportunity to tell users what your app does and convince them to download it. Focus on the key features and benefits, and keep the tone positive and compelling. Include screenshots or a video to visually show your app in action.
– Set the right price: If charging upfront for your app, the price should match the perceived value to users. Compare with similar paid apps to determine a fair price. It's often easier to start higher and run sales or price drops later. For free apps with in-app purchases, keep the initial download free and offer affordable pricing for additional items.
– Choose the right app rating: Your app rating, either Everyone, Teen, or Mature 17+, will determine which ages of users can see and download your app. Select the highest rating where your app would still be appropriate. A higher rating will allow you to reach the most users.
– Update your app frequently: Regular updates, even small ones, have several benefits. They keep your app fresh in the Play Store so it remains searchable, show active development to retain existing users, allow you to address user feedback for better ratings, and allow you to re-engage users with new features.
– Get more reviews: Having a high rating and plenty of positive reviews makes your app much more attractive to new users. Make it easy for your happy users to leave a rating or review, including a prompt at key moments in your app. Provide rewards or discounts for users who leave an honest reviews. Reply to reviews politely and consider making improvements based on critical feedback.
– Localize your app: Translating your app listing and in-app content into other languages expands your reach to more users around the world. The top languages to consider include Spanish, Chinese, French, German, Russian, and Japanese. Localized apps appear more professional and tailored to each audience.
– Promote your app: Use app store search ads, social media, email marketing, press coverage, and partnerships with influencers or other apps to actively promote your Android app to new users. Ongoing promotion is key to continued growth and success in the Play Store.
Does this cover helpful tips and best practices for publishing your app?
It's all about the total cost you may need to face while publishing an Android application on the Google play store.
Make sure to carefully read all the points and let me know if you have any other questions.
Read more:-
Final thoughts:
Google play store is one of the most popular Android marketplaces. In this detailed guide, I explained all the points for publishing an Android application on Play Store.
There is a cost associated with publishing an Android application. If you have any questions then please do write in the comments down below.
If you found the article helpful then don't forget it to share with your loved ones, friends, and families.