UC Browser is also the web browser that was built for low ram and graphic computers and the devices that have slow net connections.
It arrives with us with a dedicated download manager, theme customization, cloud sync, and much more interesting features. It is a unique browsing app to make it unique it loads photos of the topic search and links of the topic you search before you click them.
UC Browser is one of the best alternatives to the internet browsers that you want to find for Android. It comprises a very simple user search interface, but that also is more than enough to get the result or enjoy surfing on the UC Browser web.
UC Browser has many features that can provide us with a smooth experience of surfing no matter what you are surfing, downloading any files, watching videos, or looking after any website.
Nowadays we have many apps that can do take care of all our surfing needs but having a good browser is very important for all of this search.
In this today's article, we will focus on one of the best browsers online available to us that are UC Browser that is used for surfing across all web platforms for android and IOS
UC Browser is owned and operated by the biggest shopping website is Alibaba, yes you are correct the online shopping giant from China owns and controls this.
UC Browser came alive I mean started it Websearch in 2004 initially offering availability for all the mobile platforms like Blackberry, OS to Android, and Symbian.
But as time progressed its focus was shifted or it retained its focus mostly on Android and IOS platforms as these were the only top 2 mobile platforms with all the users.
UC Browser, which is now one of the most popular mobile browsers, with over 50 crore downloads worldwide, but unfortunately it has been banned in India by the government.
The Indian government said that they have decided to impose the ban on UC Browser as the browser was amongst the 59 apps that "pose a threat to sovereignty and security" of the country.
This means that instead of downloading the UC you can use alternative browsers like many renowned browsers can easily replace the solution of Downloading developed by Chinese company UC Web, such as Chrome, Mozilla Firefox, or Microsoft Edge.
Read more:-
Tubemate APK – Everything You Need To Know
WhatsApp APK – Everything You Need To Know
FEATURES OF UC BROWSER:-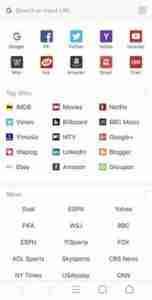 Smooth and simple browsing
You can also install UC Mini as an alternative to the main UC browser. It's also from the same company, but this one pushes the required hardware limit as low as possible so that it can work on every device.
UC Browser provides Night Mode Feature
Besides this, UC Browser also offers a great feature of a night mode so that you can browse without straining your eyes even in the low light time, this happens often when you think to browse too much once in bed.
And also there is a special complement for Facebook in the UC Browser that lets you move around the popular social network in a fast and easy way.
Incognito Mode provided by UC Browser
Another interesting feature that is included in UC Browser is the incognito mode. This browsing mode is similar to Chrome's incognito function, you can surf the Internet with privacy secured and no need to delete its history.
UC Browser is very customizable to use
Most of the modern web browsers currently there, like Mozilla Firefox, come with the favorites page section.
This section appears when you open a new tab in the browser. Here, you can check which websites you want to appear up as quick links that open in a new tab with one click.
There are also a ton of browser themes to choose from. Apply which changes the overall appearance of the window itself. You can also choose different wallpapers or you can import some of your own.
Users can also find a library of games to play while using the browser. These include Monster Squad and Trollface Quest 4 and Dragon game, which can pass the time if you experience any network issues while browsing.
CLOUD SYNCING Property
Whether you're using the UC Browser PC version or the one for Android, it keeps all your information saved across all platforms. This includes bookmarks, search results, and login information.
However, this information may be compromised due to some security problems with the browser, as mentioned a bit later.
Other browsers, like Opera, have similar functions. However, this program is one of the best at keeping your data up-to-date across all devices. All you have to do is create an account with UC, and you're set.
Safety, security, privacy and Data Policy 
Online privacy and safety of privacy is a hot topic. Sadly, there's plenty of question of the security of this application. This raises a lot of concerns regarding UC Browser is not safe.
There are no reports of harmful code with intent to destroy or harm devices.
It's also apparent to tracks your online movements. It logs and sends your activities to an external server. This includes videos you watch, images you like, search terms, some personal details, and more.
However, this is no longer a strange occurrence. Most applications tend to share this problem
Videoes Can Play In The Background While using Other Tab:-
By this, anyone enjoys listening to the videos even when you are doing other things with the phone.
It is Data Saving also:-
UC Browser has a feature that can compresses data, speed up data navigation. It will also help you to save a lot of cellular data traffic. The more you browse here, the more data you can save with UC Browser as compared to any other browser.
AD Block Option is also there:-
Ad-block functionality is also there in this UC Browser which blocks different forms of ads. That affects your browsing experience in any way. It helps you visit webpages Ad-Free on your android devices.
Read more:-
Aptoide APK – Everything You Need To Know
Google Account Manager – Everything You Need To Know
INSTALLATION:-
You can download it from APKSpin.
Read more:-
Showbox APK – Everything You Need To Know
Quick Short Cut Maker APK – Everything You Need To Know
BOTTOM LINES:-
In the above article, we have read about what is UC Browser. Now controlled and run by online shopping giant Alibaba.
It's the main focus on Android and Ios devices to provide them is superb features.
If you got any doubt regarding this tool feel free to ask us in the comment box. We will try to provide you with the best solution.