The Google Camera app is the best camera app you can currently find on the Android smartphone Android developer did some magic work to come up with such an exceptional app.
From the start of this app, Google has been steadily working on this app and improving it and, with the latest Google Camera 8.2.204, we will now be able to record video with a few swipes itself.
If you have Google Camera only advice would be to never miss a moment with Google Camera, and take fantastic videos and pictures using features such as Portrait, Night Sight, and the video stabilization modes.
Google always tries to become the best in the market in every app so that it can woo its competitors so just for the same purpose google recently came up with the Google Camera app.
The app is launched recently and came up in the latest Nexus devices preinstalled. And also if your phone supports Android 10, the Google Camera app can be installed on it.
The thing that makes this app so fascinating is that it has come with five camera modes. These include the Panorama Mode, regular Camera Mode, Video Mode, Photosphere Mode, and the latest Lens Blur mode.
Users can change the Camera mode just by sliding to the right from anywhere, and the modes will slide out from the left side.
If you want to see any of the photos you've taken, simply slide your finger to the left of the screen and it'll open your most recent photo taken.
The new latest feature of Quick Capture lets users quickly start a video capture just by tapping and holding the shutter button for a while.
It's important to mention that, in older versions of the Google Camera app, user have to tap and hold the finger on the shutter button as long as they wanted to shoot a video. If you lift your finger the video would stop recording.
Read more:-
Amazon Prime – Everything You Need To Know
YouTube – Everything You Need To Know
FEATURES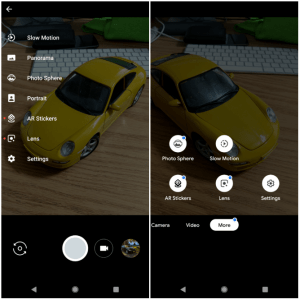 HDR+ With Dual Exposer
Use HDR+ while capturing which will provide you fantastic pictures even in low or dim light or any backlit scene. The HDR mode just clarifies the picture which makes it so natural and amazing.
Night Sight Mode
By the arrival of this feature, you will not have to use flash again at the night. Night Sight brings you the best colors and shades they get lost in low or poor light
Portrait Mode
Add elegant blur background to the pictures which give main focus to guys who have been clicked.
Google Photos can also make the subject of your photo pop by leaving them in color while changing the background to black and white.
Long Shot Option
Take any type of casual, quick videos by simply long pressing the shutter key in the default camera mode.
Top Shot View Click
While clicking pick the perfect moment with Top Shot. It will automatically recommend you the best pics, where no one is blinking and everything looks just perfect and in proper sync.
Quick Switch
While taking pictures we can quickly switch between video and  photo mode just by doing a quick swipe to the right
Easy to use Effects
Easy to create stunning photographic effects and switch between different photo modes such as Lens Blur, Wide Angle, Panorama, and Photo Sphere from the top-left menu just by clicking on them.
Record In Slow mode
We can even record videos in slow-motion in 240 p on the latest devices.
Easy to Make Gif
We can even Gif by just holding down the shutter button on the Nexus devices which will capture pics and make a gif of them
Read more:-
Call of Duty – Everything You Need To Know
Instagram Plus – Everything You Need To Know
INSTALLATION
You can download it from APKSpin.
Read more:-
PPSSPP Gold – Everything You Need To Know
Play Store – Everything You Need To Know
FAQ ON GOOGLE CAMERA
What is the camera sensing in the device?
The camera sensing features allow the camera of your device to sense what's happening in your home's environment by instantaneously analyzing images from the device's camera.
When you turn the camera sensing setting on of your device then it will be working properly, for example, you can then choose to turn on Face Match to personalize with your device or use Quick Gestures to easily stop and resume media.
Today, the camera sensing setting only applies to the Face Match and Quick Gestures features, but we aim to add more camera sensing features over time. Any future camera sensing features will also require the camera sensing setting to be turned on.
How to enable or disable camera sensing?
During the setup of Next Hub Max, you will be asked whether you want to enable the camera sensing feature or not.
Even if you select no that it can be enabled anytime in the future.
How to install Google Cam?
We can install Google Cam just by downloading it from its APK files which are only made for Android devices only.
Read more:-
Disney Hotstar – Everything You Need To Know
MPL APK – Everything You Need To Know
REVIEWS
Google Camera has a very simple and easy interface to work on, with the most important controlling features right at your fingertips.
Google has redesigned the Camera app for every skill level of user, making photography more accessible to everyone.
The back camera on my pixel 5 has stopped working. Can't remember if it coincides with a recent software update or not but it only started happening about a week ago.
Troubleshooting doesn't help and given all the recent bad review don't want the hassle of a factory reset given it doesn't seem to work.
Very laggy and unresponsive when you are previewing a picture inside the app.
After the software update camera app not working on the device.
Fix the camera app!! It's so beyond frustrating when a huge reason I got this phone was because of the camera. Now it doesn't work because of an update you did?! It's BS. Fix it.
Read more:-
Auto Android – Everything You Need To Know
Telegram – Everything You Need To Know
BOTTOM LINES
Google Camera as the name suggests is the tool of Google. Google always tries to give the best products to the users.
Therefore this is also one of the best Camera Devices in the market. You can also install the same tool from our apk which is provided by us in the above paragraph.
If you got any doubt tell us in the comment box if will provide you solution as soon as possible.