Alt Balaji is a subsidiary of Balaji telefilm Ltd, which is an Indian company e which produces reality TV, comedy, game shows, entertainment, soap operas, and actual programming in several Indian languages.
In alt Balaji, there is a subscription-based video on demand platform which launched on 16 April 2017. They have around 34 million paid users on their platform.
The user can see the video content using a mobile web browser, desktop browsers, windows, pc, tablet devices of Apple phone, Apple iPad, Android phone, Android tablet.
They also claim that their application has the highest content back seen in India.
They have a variety of ranges in the videos like drama, comedy, romance, thriller, crime, and mystery.
The original content was made by India's top actors and directors and the platform will showcase 250 hours of original content with the new show every month.
There is the availability of urban regional shows as well in Bengali, Hindi, Marathi, Punjabi, Tamil, and many more.
There is a controversial show whose filmmaker was Ekta Kapoor.
There has been an FIR filed against it for alleging an insult to the national amalgam Hindu is called and army personnel in alt Balaji XXX web series.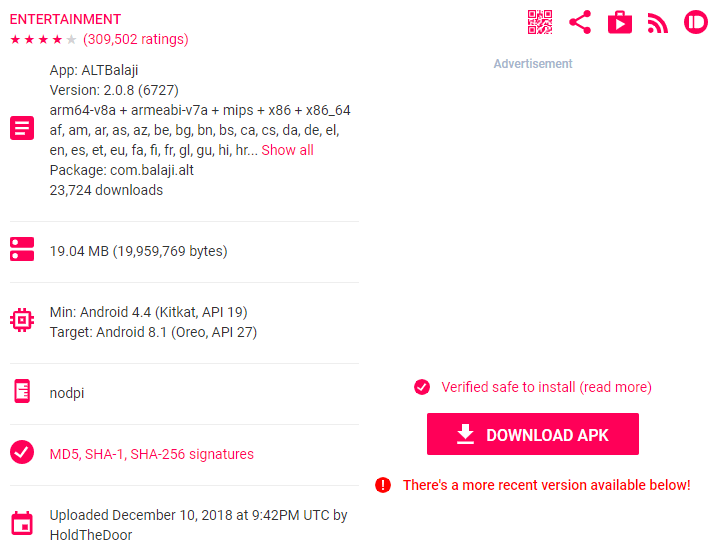 After that Ekta also claims that the controversial scene has been removed.
Its subscription plan is one of the cheapest plans in the industry for video on demand. The subscription plans are
– ₹100 for 3 months (₹ 33.4 per month)
– ₹ 180 for 6 months ( ₹30 per month)
– ₹300 for 12 months or 1 year ( ₹25 per month)
If you are a new user of alt Balaji and just subscribe to it then you should know some of the topmost web series that you should not miss.
– Dev DD – this web series is just the opposite version of the popular Bollywood movie named Devdas in which the casting actors were Shahrukh Khan, Aishwarya Rai, and Madhuri Dixit.
That movie was based on a novel written by Sarat Chandra Chattopadhyay.
This web series was directed by Ken Ghosh.
Generally, the Devdas character was done by a male but in it, the main character revolves around a girl who is not rich and also belongs to a general family and shows a reality of the society.
– Apharan – this web series is directed by Siddharth Sengupta in which the lead role was played by Arunoday Singh, Nidhi Singh, and Mahi gill.
The story revolves around kidnapping and shoots in the hilly state of Uttarakhand.
When this web series was released there was a high craze in people for thrill crime and action drama web series because of their view of Mirzapur and scary games and this is one of the best thrill, crime original creations from the alt Balaji web series collection.
– Gandii Baat – this web series was directed by Sachin Mohit and this is one of the most erotic and web series in India.
To date, there has been the release of the sixth season of Gandi Baat.
In every episode of Gandi Baat, there is one story that differs from their respective episodes.
– The married women– this web series was directed by Samar Khan.
Currently, this is the topmost rated web series of alt Balaji in which women who are a wife, a mum, a homemaker, a teacher but what about herself?
In this, she breaks boundaries that are set by society to find herself and encourages all the Indian women who are afraid to take a step forward because of their inner society boundaries.
– Bekaaboo–  this web series is directed by Aarambh M Singh.
The main roles were done by Priya Banerjee, Rajeev Siddhartha, Madhu Sneha Upadhyay, Jitendra Hirawat.
This Story revolves around an author name tance Roy who was best selling erotic author.
However, the deepest corner of his heart desires a different kind of pleasure, the wild pleasure that comes with the pain.
– His story– this web series is directed by Prashanth Bhagya where main roles were given to Priyamani, stay deep Mishra, Mrinal Dutt, Nikhil Bhatia.
It's a roll costa tale of power couple Kunal-Sakshi who lead a perfect married life for 15 years and are the epitome of perfection that makes their friend red with envy.
– Hello jee– this web series is directed by Shahnawaz sabir Khan. The main stars were Nyra Banerjee, Rahul Sharma, Mrinalini Tyagi.
– Mai Hero bol Raha hu – This web series is directed by Siddhartha Luther with main role work done by Parth Samantha, Meenal Sahu, Tarun Chaturvedi, Upen Chauhan.
Here nawab rises as an underworld don from small-town boy to Bombay is the most powerful Don.
Hei falls in love with actress Laila who isn't aware of who he is.
Frequently asked questions:
Q-1 How to login to Alt balaji?
Solution- for login follow these steps
If you are on desktop click on the sign-in button at the top right corner and if you are on the mobile app then tap the menu I can and go to sign in
Now enter your email id mobile number and password or OTP.
If you want to log in to TV then you should have an email id and password in case if you don't, you need to connect your email with a phone number by visiting the website of alt Balaji www.altbalaji.com.
Now you will successfully login into your mobile app or honor TV and enjoy your favorite series.
Q-2 why an email id is needed to verify?
Solution- it is important to ensure that registration is done by humans not by robots or aliens. Having a correct email ID will also help you to stay in touch and receive the ongoing promotional offer and details of upcoming shows.
Q-3 How many videos can be downloaded at a time in alt Balaji in subscription ID?
Solution- it totally depends on your phone storage as the video downloaded in alt Balaji will take your device storage. You can download the videos until your phone storage will not finish.
Q-4 How to enable subtitles on the alt Balaji app and website?
Solution- if a small chat icon on right down on a screen did not appear you should on the subtitle from going to settings of alt Balaji after that there is more like and appear and you can on or off this subtitle as per your choice.
Conclusion:
Alt Balaji can be an option for your enjoyment or if you are a person who wants to see a lot of web series and add movies for less money then you can go with it. All over its good application of video on demand.